June 28, 2022
In this Issue:
Registration is Open for 2022 Consumer Voice Conference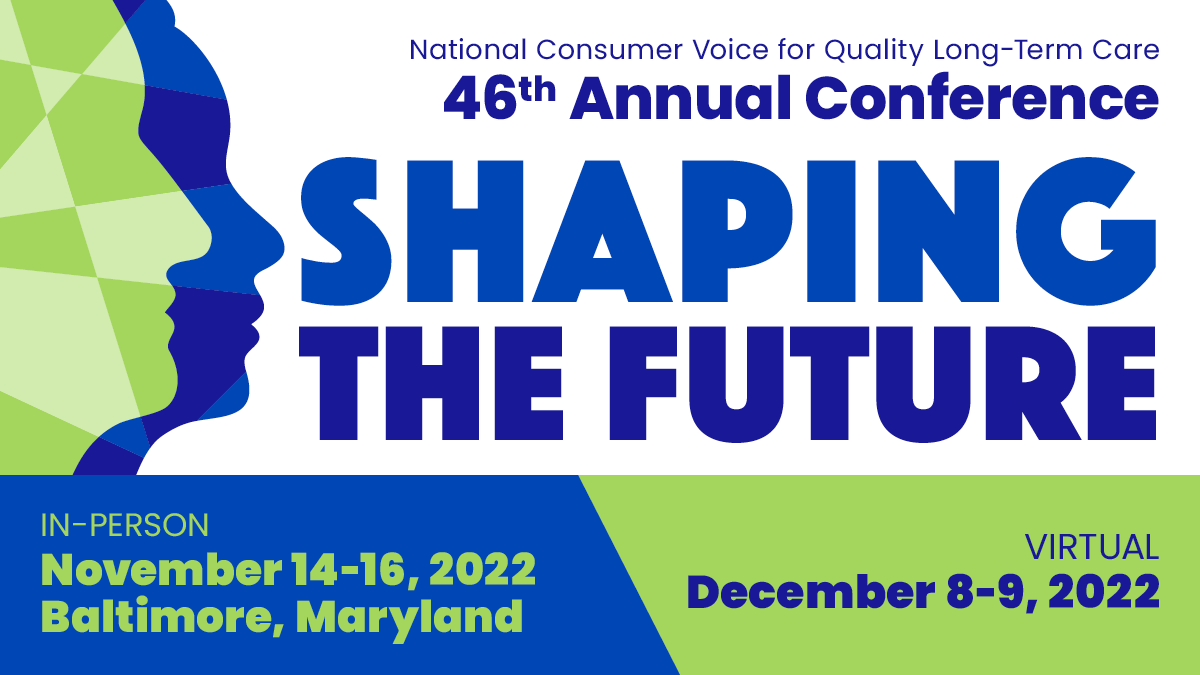 Registration is now open for the 2022 Consumer Voice Conference in Baltimore, Maryland November 14-16, 2022 and virtually December 8-9, 2022. At the 2022 In-Person & Virtual Conferences, you will:

Listen to key experts at the federal level discuss the latest policy updates;

Hear the voices of long-term care consumers;

Connect with advocates nationwide and learn about best practices;

Gain skills relevant to your work; and

Return to your state and community revitalized and equipped with new tools to put your systems and individual advocacy into action!
Set Up Visits with Your Members of Congress to Urge Them to Support Policies that Hold Nursing Homes Accountable; Resources Available to Help You Prepare for These Visits

Face-to-face visits with your elected officials (or their staff) are a very influential form of advocacy. Members of Congress are about to return to their home districts for a summer recess, so it's a great time to schedule a visit to make your voice heard!

Tell your members of Congress to support the implementation of staffing standards and hold long-term care facilities accountable for the care they provide and money they receive.

We know that these visits might seem intimidating, but we've made it easy - watch our how-to videos to learn how to schedule a visit with your members of Congress and what to expect during the meeting.

Plus, we have several resources to help you prepare for the visit. Check out our Advocacy Toolkit for tips on:

Materials Available from Consumer Voice and AARP Briefing on Nursing Home Reforms

Materials are available from our recent briefing with AARP, The Time is Now to Reform Nursing Homes. At the briefing, expert panelists, along with a nursing home resident and a resident family member, spoke of the importance of supporting the Biden Administration's nursing home reforms.

Get the recording and written remarks on our website.
Materials Available from NORC and NCLER Webinar on Nursing Facility-Initiated Discharges

Materials are available from the National Long-Term Care Ombudsman Resource Center (NORC)'s webinar, Long-Term Care Ombudsman Programs and Legal Services: Working Together to Protect Residents from Nursing Facility-Initiated Discharges. This webinar by NORC and the National Center on Law & Elder Rights (NCLER) discussed the roles and responsibilities of the Long-Term Care Ombudsman program (LTCOP) and legal services and how they can work together to protect rights of residents in nursing facilities. Specifically, presenters discussed who can represent residents during discharge hearings and showcased examples of LTCOP and legal services collaboration in representing residents' interest during appeal hearings. NORC shared a new resource for LTCOPs and highlighted other key resources for LTCOPs and legal services.

Get the materials on NORC's website.
Technical Assistance (TA) Talk Tomorrow on Investigating Complaints Involving Allegations of Abuse

Long-Term Care Ombudsman Program representatives are invited to join NORC tomorrow, Wednesday, June 29th at 3:00pm ET for a quarterly Technical Assistance (TA) Talk on investigating complaints involving allegations of abuse. Beverley Laubert, National Ombudsman Program Coordinator, Administration for Community Living (ACL), will open the discussion by reviewing pertinent federal requirements and guidance that explain the role of the LTCOP in investigating allegations of abuse. Dale Watson, South Carolina State Long-Term Care Ombudsman, and Jessica Winters, Regional Long-Term Care Ombudsman, South Carolina, will share a case example with local and state level advocacy and coordination with other entities such as Adult Protective Services (APS), state licensing and certification, Medicaid, and the Attorney General. There will be ample time for questions and discussion following the presentation.