NEW! Virtual Office Hour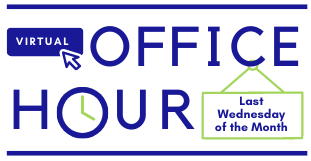 NORC will begin hosting a virtual open office hour the last Wednesday of each month at 2:00 pm ET starting in July. We will focus on volunteer management for the first few months. These Zoom calls do not include a structured presentation and are open to all State Ombudsman and their program representatives. It is an opportunity for Ombudsman program representatives to ask questions, share information, and have open conversations. These calls will not be recorded. We invite all State Ombudsmen and program representatives to attend and ask us your burning questions about volunteer management.
NEW! Fact Sheet on Representing Residents During Nursing Facility Discharge Appeal Hearings

The purpose of the fact sheet, Representing Residents During Nursing Facility Discharge Appeal Hearings: The Basics, is to provide a basic overview about residents' rights in appealing nursing facility discharges and tips for Ombudsman program advocacy considerations before, during, and after an appeal hearing.

NEW! Webinar Recording and Materials on Long-Term Care Ombudsman Programs and Legal Services
The National Long-Term Care Ombudsman Resource Center (NORC) and the National Center on Law & Elder Rights (NCLER) hosted the webinar, Long-Term Care Ombudsman Programs and Legal Services: Working Together to Protect Residents from Nursing Facility-Initiated Discharges, that discussed the roles and responsibilities of the Long-Term Care Ombudsman program (LTCOP) and legal services and how they can work together to protect rights of residents in nursing facilities.

NEW! Technical Assistance (TA) Talk Materials on Investigating Complaints Involving Allegations of Abuse

To increase direct access to technical assistance (TA) and peer support, NORC hosts quarterly live technical assistance dialogues. The June 29 TA Talk discussed Investigating Complaints Involving Allegations of Abuse, view the recording and materials here. The next TA Talk will be September 21, 2022. Have questions, an idea for a future topic, or examples of training, consumer education, or successful advocacy? Email NORC at ombudcenter@theconsumervoice.org.
NEW! Webinar Recording and Materials on the Treatment and Workplace Conditions for Direct Care Workers
This discussion was an opportunity for State Ombudsmen and Ombudsman program representatives across the country to share their observations related to workforce conditions in long-term care settings and how it impacts the quality of life and care of residents. ADvancing States shared information from their recent work regarding workplace conditions, specifically about the treatment of direct care workers in long-term care settings. Directly related to the workforce issues, Consumer Voice staff shared information regarding the opportunity to comment in response to the Centers for Medicare & Medicaid Services request for information about the implementation of a minimum staffing standard in nursing homes.

NEW! Webinar Recording and Materials on Recognizing the Importance of Volunteers
This webinar focused on volunteer representative recruitment and retention. Volunteer representatives discussed why they stay with the program and Ombudsman programs shared state and local level examples of successful recruitment and retention activities.
UPDATED! Fact Sheet on Residents' Rights and the LGBTQ+ Community
The fact sheet, Residents' Rights and the LGBTQ+ Community: Know Your Rights as a Nursing Home Resident, was updated. This resource highlights federal residents' rights and nursing home requirements that may be of particular importance to lesbian, gay, bisexual and transgender (LGBTQ+) residents and provides options for complaint resolution, information for reporting abuse, and resources regarding long-term care and LGBTQ+ advocacy.
UPDATED! Resident-to-Resident Mistreatment In-Service Training Guide and PowerPoint
The Preventing and Responding to Resident-to-Resident Mistreatment in-service training includes a training guide and PowerPoint with presenter notes. The materials are intended for use by Long-Term Care Ombudsman programs to provide in-service training for staff of nursing facilities and residential care communities on the topic of resident-to-resident mistreatment (RRM). By the end of the training attendees will be able to define RRM; provide practical solutions to prevent incidents of RRM; understand the importance of individualized, resident-centered care; and know how to report incidents of RRM.
UPDATED! PowerPoint on The Who, What, Where, Why, and How of the Long-Term Care Ombudsman Program
This presentation has been updated to include 2020 NORS data and it reviews the Ombudsman program responsibilities required by federal law so the information is applicable in every state. This presentation explains what the Ombudsman program does, who the Ombudsman program serves, and how to contact the program. Ombudsman program representatives can use this presentation when training potential program representatives, during Resident Council and Family Council meetings, community education, and in-services for facility staff. View the slides as a PDF or PPT.