December 3, 2019
In this Issue:
Consumer Voice Executive Director Speaks at Elder Justice Coordinating Council Meeting
Consumer Voice Executive Director Lori Smetanka addressed the Elder Justice Coordinating Council (EJCC) at a meeting this morning. The EJCC was established by the Elder Justice Act in 2010 to coordinate activities related to elder abuse, neglect, and exploitation across the federal government. The Elder Justice Coordinating Council is directed by the Office of the Secretary of Health and Human Services and the Secretary serves as the Chair of the Council. Lori's remarks this morning centered around abuse, neglect and exploitation of long-term care consumers. She highlighted stories of abuse and provided recommendations for prevention. Her recommendations included: improving data collection and reporting; promoting greater collaboration among federal partner agencies and programs; investing additional resources in (or requesting additional resources for) training and support around investigation and prosecution; ensuring victim supportive services are extended to individuals who reside in long-term care facilities; and raising public awareness and understanding of elder abuse, neglect, and exploitation by establishing a date certain for launching the broad-based public awareness campaign recommended by the EJCC. Read Lori's full statement here. Bob Blancato, Chair of the Elder Justice Coalition (of which Consumer Voice is a member) and Dr. Pamela Teaster from Virginia Tech University also spoke at the meeting. Panel statements and recording will be available here »
NBC News Report Investigates Nursing Homes Illegally Evicting Residents

A recent NBC News report shines a light on nursing homes that are illegally evicting elderly and disabled residents who can't afford to pay. Medicare reimburses nursing homes at a higher rate than Medicaid, making it more profitable for facilities to keep Medicare patients. So, nursing homes evict low-income residents on Medicaid to make space for residents who are covered by Medicare. Discriminating against residents based on payment source is illegal, but advocates contend that residents are still inappropriately transferred and discharged for this reason. Consumer Voice's Director of Public Policy and Advocacy, Robyn Grant, was interviewed for the article. She spoke about the federal government's reduction of nursing home fines which can affect the way illegal evictions are punished. A nursing home that inappropriately discharges a resident may be fined one time instead of every day that the resident is denied readmittance. Read the article »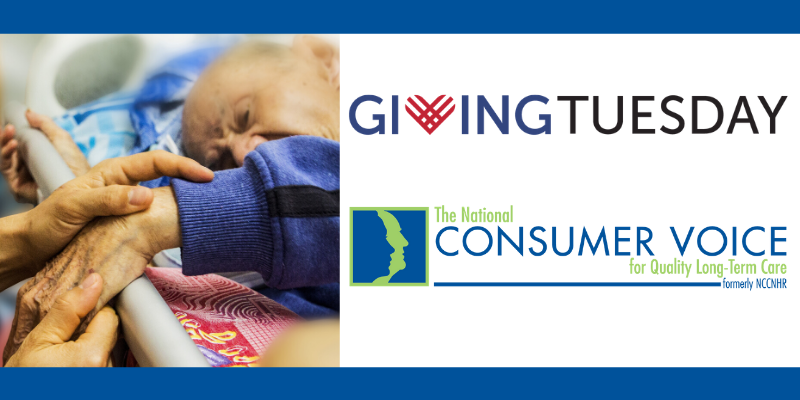 GivingTuesday was created in 2012 as a simple idea: a day that encourages people to do good. Over the past seven years, this idea has grown into a global movement that inspires hundreds of millions of people to give, collaborate, and celebrate generosity.
GivingTuesday is a time to give back to the causes you care about and share your support of their mission. Support Consumer Voice on GivingTuesday to stand for quality care for all long-term care consumers. Donate on our website, on Facebook, or by mailing a check to 1001 Connecticut Ave, NW, Suite 632, Washington, DC 20036.

December 31st Deadline Affects Money Follows the Person Program

The Money Follows the Person (MFP) demonstration program has assisted more than 90,000 people since 2007 with moving into a setting of their choice. It provides assistance, support and funding to help individuals with intellectual and developmental disabilities, individuals with physical disabilities, and older adults who want to transition out of an institution or facility to their own home or a community residence. Despite support for the program in Congress, the short-term funding extension is set to expire on December 31, 2019 and its future remains uncertain. According to a recent issue brief from the Kaiser Family Foundation (KFF), without reauthorization from Congress, "Twenty percent of MFP states will have exhausted their current funds by the end of 2019, and the vast majority of the remaining states expect to do so during 2020...Over one-third of MFP states identified a range of services that they expect to discontinue if federal funding expires, with community transition services most often cited."
A further brief from KFF analyzed the implications of a pending change to the "spousal impovershiment" rules. These rules allow married couples to protect a portion of their income and assets if one spouse seeks Medicaid coverage for long-term care, so the other spouse still has enough resources to meet their needs. A provision in the Affordable Care Act required that these rules be applied to home- and community-based long-term care, but it is set to expire at the end of December. The KFF brief warns that the expiration of these rules "could slow or begin to reverse states' progress in expanding access to HCBS, while reauthorizing the rules would provide stability for enrollees and states."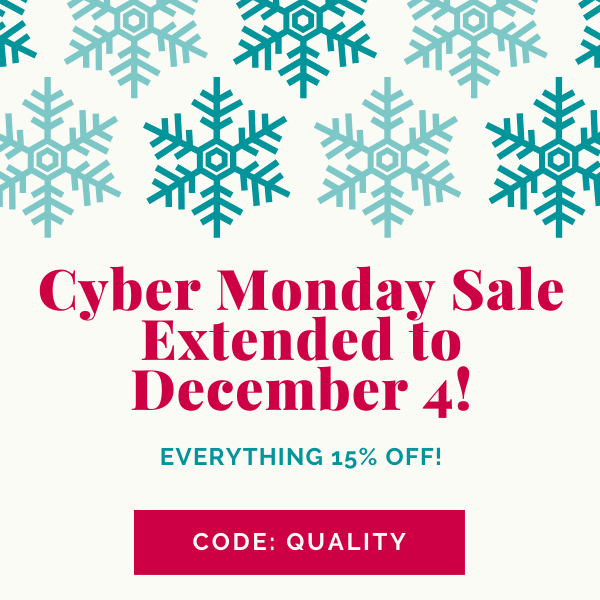 Consumer Voice Store Sale Extended

There's still time to get 15% off everything in the Consumer Voice store using coupon code: QUALITY. Shop residents' rights bookmarks, privacy door hangers, "I Stand for Quality" buttons, residents' rights posters and fact sheets, pocket guides on individualized care and stopping abuse, and much more! Plus, take advantage of the limited-time sale price for Nursing Homes: Getting Good Care There, our widely-acclaimed classic consumer guide. Shop the Store »
Fact Sheet: How Hospice Can Be a Force for Justice for Older People

The National Center on Elder Abuse (NCEA) has released a fact sheet, "How Hospice Can Be a Force for Justice for Older People" in reponse to the Office of Inspector General's report "Hospice Deficiencies Pose Risks to Medicare Beneficiaries." November was National Hospice and Palliative Care Month, and NCEA is raising awareness of how hospices and hospice care providers can be a coordinated, collective force for justice for older people. Read the Fact Sheet »