March 3, 2020
In this Issue:
Supporting the Prevention of Coronavirus in Long-Term Care Facilities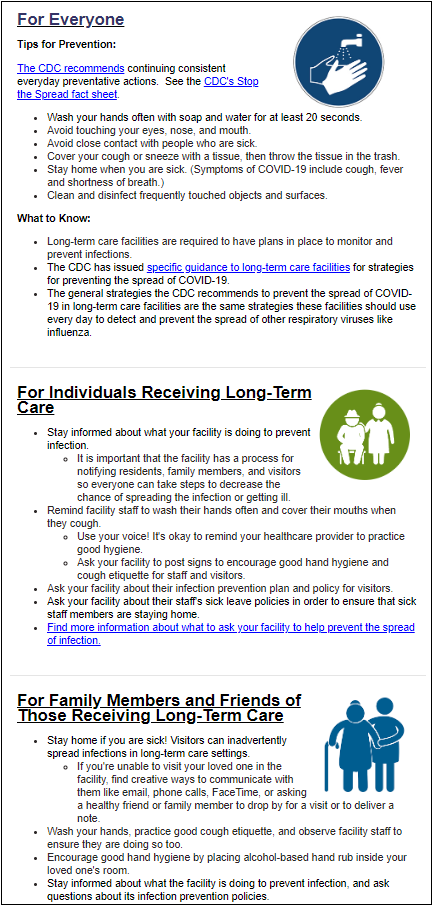 Click the image on the right to see larger.

As the coronavirus disease 2019 (COVID-19) outbreak continues to evolve, it is important for long-term care consumers, family members, Ombudsman programs and other advocates to be informed and take precautions in order to prevent the spread. According to the Centers for Disease Control and Prevention (CDC), the health risk of COVID-19 for the general public in the United States is low at this time. However, just as with influenza and other viral infections, older adults and some individuals with preexisting medical conditions are at an increased risk for more severe illness.
Consumer Voice has provided information and tips for individuals receiving long-term care, friends and family members, and Ombudsman programs for helping prevent the spread of COVID-19. For further information, read the CDC's specific guidelines for strategies to prevent the spread of COVID-19 in long-term care facilities and AMDA's recommendations for COVID-19 in PALTC settings.
DOJ Announces National Nursing Home Initiative

Today, at the Keeping Seniors Safe summit on elder justice, the Department of Justice announced the launch of the National Nursing Home Initiative, which will coordinate and enhance civil and criminal efforts to pursue nursing homes that provide grossly substandard care to their residents. This initiative is focusing on some of the worst nursing homes around the country and the Department already has initiated investigations into approximately thirty individual nursing facilities in nine states as part of this effort. The DOJ considers a number of factors in identifying the most problematic nursing homes including inadequate nursing staff, failure to adhere to basic protocols of hygiene and infection control, and using physical or chemical restraints to restrain or sedate residents, among many other factors.
"The Department of Justice has a long history of holding nursing homes and long-term care providers accountable when they fail to provide their Medicare and Medicaid residents with even the most basic nursing services," said Assistant Attorney General Jody Hunt for the Civil Division. "Through this National Initiative, we will more effectively and quickly pursue nursing homes that are jeopardizing the health and well-being of their residents." Read the DOJ's press release on the Initiative »
User-Friendly Nursing Home Staffing Data from LTCCC

The Long-Term Care Community Coaltion (LTCCC) has published the latest staffing data from every U.S. nursing home (2019, Q3). LTCCC provides the data in several user-friendly formats in order to easily sort a state's facilities by highest and lowest reported levels of registered nurse care and to easily see staffing averages for all states. See the data »
Webinar on Updates to Public Charge & Immigration from Justice in Aging

The "public charge" test, as a part of federal immigration law, is designed to identify people who are "primarily dependent" on certain government benefits. The government can deny admission to the U.S. or refuse an application for a green card to an applicant whom it determines is likely to become a public charge. In August 2019, the Department of Homeland Security published a new final public charge rule expanding the definition of public charge to consider individuals who receive Medicaid, are age 62 or older, are uninsured or have serious health conditions or disabilities, among other "negative" factors. The Supreme Court issued an injunction to block the rule, but the injunction has been lifted, allowing the rule to go into effect while litigation is pending. The public charge immigration final rule began being implemented on February 24th.
Join Justice in Aging Monday, March 9th from 2:00-2:30pm ET for a webinar providing updates on public charge and older immigrants. The webinar will begin with an overview of the public charge test and how it applies to older adults, discuss the current state of litigation, and provide information on what advocates need to know about the rule's implementation. Register »
National Elder Fraud Hotline Announced

Attorney General William Barr announced the launch of the National Elder Fraud Hotline during today's Keeping Seniors Safe summit. This toll free call center helps combat fraud against older Americans and provides support for victims who have been robbed of their hard-earned savings. Call 833–FRAUD–11 (833–372–8311) to receive help from a hotline case manager. Visit the hotline's website »