March 31, 2020
In this Issue:
CMS Issues Broad Waivers of Requirements for SNFs
The Trump administration has issued an unprecedented array of temporary regulatory waivers for skilled nursing facilities (SNFs) as part of its efforts to respond to the COVID-19 pandemic. Among the "Flexibilities" effective immediately:

Non-SNF buildings may be temporarily certified as a SNF.

Temporary rooms may be set up in facilities for resident care in emergencies and situations needed to help with surge capacity. Examples of rooms that may be used include activity rooms, meeting/conference rooms, and dining rooms.

Facilities may move residents within a facility, or transfer to another LTC facility, solely for the purpose of cohorting and separating residents with and without COVID-19.

The 3-day prior hospitalization requirement for coverage of a SNF stay is waived.

Timeframe requirements for MDS assessments and transmission are waived.

Submission of staffing data through the Payroll-Based Journal system is waived.

PASRR assessments are suspended for 30 days.

The right of residents to participate in-person in resident groups is waived.

A LTC facility can temporarily transfer its COVID-19 positive residents to another facility, such as a COVID-19 isolation and treatment location, without issuing a formal discharge.

CMS has waived the requirement that a facility not employ a nurse aide for longer than four months unless they meet training and certification requirements; although not waived is that the individual working as a nurse aide be competent to provide nursing and related services, and the requirement that facilities ensure that nurse aides are able to demonstrate competency in skills and techniques necessary to care for residents' needs.
Stay tuned for a more in-depth review from Consumer Voice of these emergency rules. Visit our website for more information about the COVID-19 pandemic and CMS guidance »
New COVID-19 Resources for Residents and Families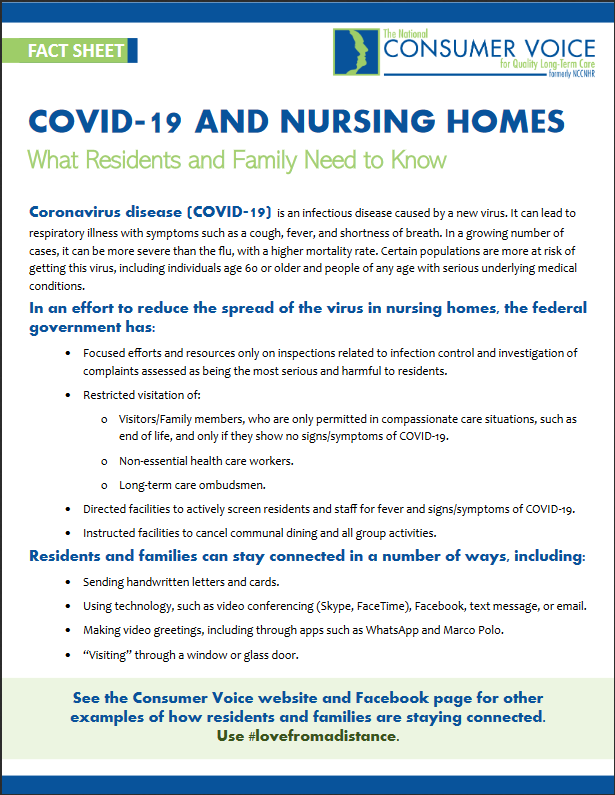 Consumer Voice is pleased to release a new publication, COVID-19 and Nursing Homes: What Residents and Families Need to Know. This consumer fact sheet is designed to inform both residents and their families about steps the federal government has taken to reduce the spread of the virus, what nursing homes should be doing to prevent and control COVID-19, actions residents/families can take to promote safe care, visitation, and more.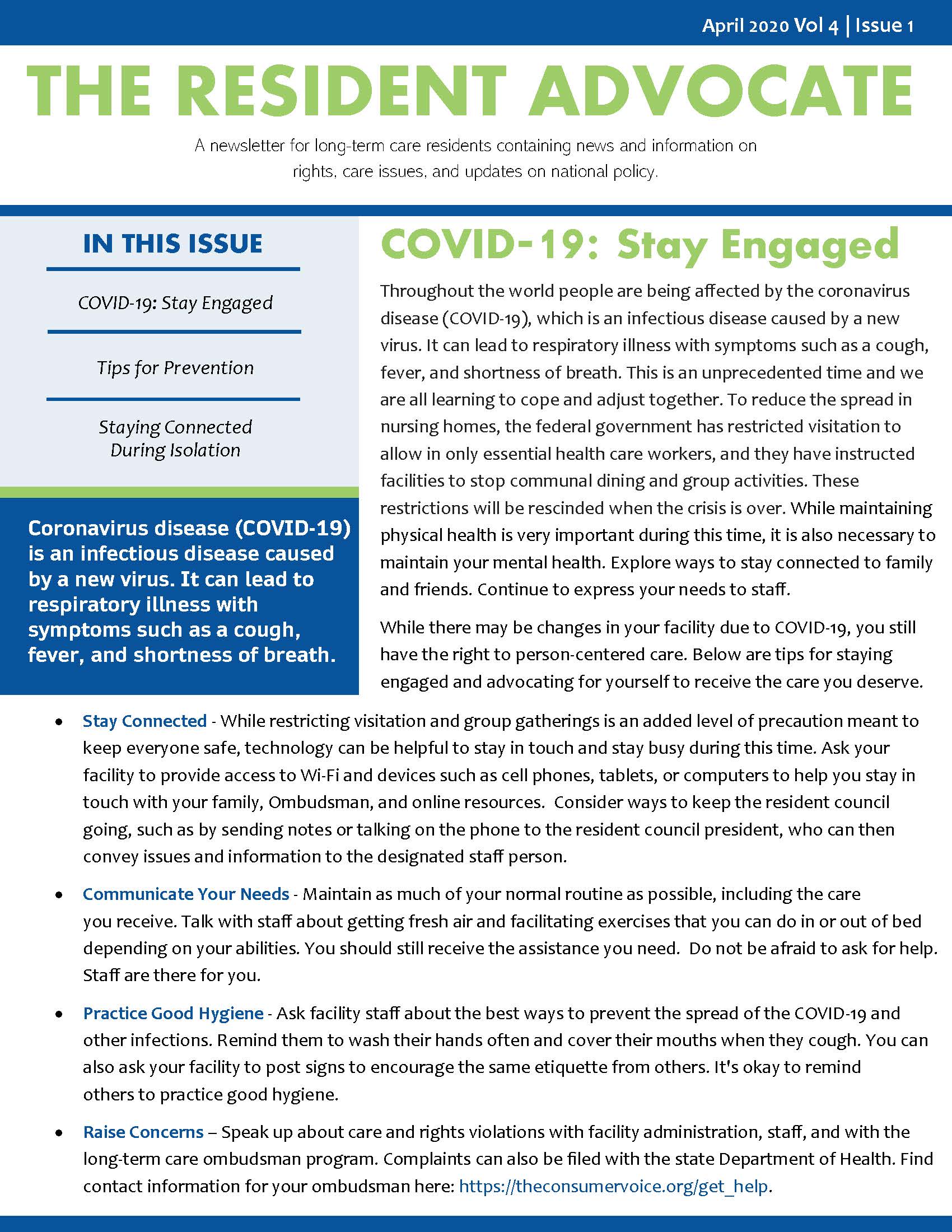 The April 2020 issue of The Resident Advocate, a newsletter for nursing home residents, is now available. The Resident Advocate provides information on residents' rights and care issues; news and updates on national policy; and self-advocacy tips for obtaining person-centered, quality care. This issue includes updates on the coronavirus disease (COVID-19) and suggestions for staying engaged and advocating for yourself to continue to receive the care you deserve. This issue also features an article on COVID-19 prevention tips and ideas to stay connected with friends and family during isolation. Nursing home staff, long-term care Ombudsman programs, family members, and other advocates are encouraged to forward this newsletter or print and share copies with residents.
CARES Act Provides Funding and Support for Aging and Disability Networks; $20M for LTCOP
On Friday, the President signed into law the Coronavirus Aid, Relief and Economic Security (CARES) Act. The Act, which provides $2.2 trillion in total, directs $955 million to Adminstration for Community Living (ACL) programs. These funds will go to existing grantees in the aging and disability networks, including State Units on Aging and Centers for Independent Living, as well as to Tribes and tribal organizations. The $955 million includes:
In addition to the funding, the CARES Act also includes many provisions that wll benefit people with disabilities, older adults and the aging and disability networks, including:
the ability for direct care workers who provide services under Medicaid waivers to accompany people with disabilities as they enter hospitals to continue to provide services that are not provided by the hospital, and

extending funding for the Money Follows the Person demonstration program through November 30, 2020, among other provisions.
Plus, the CARES Act expands telehealth options and explicitly includes nonprofits in the provisions for small business loans. Read the CARES Act »

Webinar on Impact of Coronavirus on Advance Care Planning
Consumer Voice is pleased to share a webinar from the Center for Practical Bioethics, AD Vault, and the National Nursing Home Social Work Network on Thursday, April 2, 2020, 2:00pm-3:30pm ET - The Impact of the Coronavirus Crisis and Pandemic on Advance Care Planning and Re-setting Goals of Care in Nursing Homes. The webinar will cover how the current Coronavirus crisis impacts and complicates critical elements of advance care planning, and setting and re-setting goals of care when emergencies are declared and crisis standards are implemented. The presentation will cover the need to make difficult decisions about treatment options under stressful conditions that requires some urgency. The ethical, emotional, spiritual and psychosocial impact on families who will likely be unprepared and separated by distance in making difficult decisions will augment the traditional advance care planning process and execution of medical orders. Tools and resources for conducting these discussions will be provided and considerations for families who may be unfamiliar with legal documents will be addressed.
By registering for this webinar, you will also have access to a second webinar on Friday, from 2:00pm - 3:00pm ET, which will go into depth about using virtual discussions. This webinar will include information on accessing the cloud based archiving of advance care planning documents and audio/video records of patient/family discussions sponsored by AD Vault/MyDirectives. Register »
Webinar Recording and Materials Available on Strategies for Providing Remote Services
Last week the National Center on Law and Elder Rights (NCLER) hosted a webinar on legal assistance providers and aging services advocates evolving their service delivery models in response to the COVID-19 pandemic. Ombudsman programs and others that are working remotely may find this webinar helpful because, in addition to sharing strategies and ideas, this webinar highlighted technology-based tools that can be used during this time. Access the materials »
Deadline Friday for Session Proposals for 2020 Consumer Voice Conference
The deadline for proposals for sessions at Consumer Voice's 44th Annual Conference - October 25-28, 2020 in Arlington, Virginia - is Friday, April 3. We are looking for proposals that create an engaging, informative conference agenda that provides resources, tools, opportunities for discussion, and strategies our attendees can incorporate in their life and/or advocacy.
Two easy steps to submit a proposal -
Review the Call for Proposals and Presenter Requirements.

Submit your proposal via Survey Monkey. NOTE: You will not be able to save incomplete submissions in SurveyMonkey, so you may want to review and print or save the PDF version of the proposal questions so you can plan your responses prior to starting the submission.
Proposals are due April 3, 2020. Learn more »