June 16, 2020
In this Issue:
Senators Sponsor Resolution in Honor of WEAAD; Congressional Briefing on Wednesday
Senator Chuck Grassley sponsored a resolution, along with Sens. Blumenthal, Collins, Wyden, Casey, Tillis, and Ernst, to recognize the 15th anniversary of World Elder Abuse Awareness Day (WEAAD) yesterday. The Elder Justice Coalition commended the introduction of the Senate resolution. National Coordinator of the Coalition Bob Blancato said, "World Elder Abuse Awareness Day takes on special significance in this difficult time in our nation, especially as it relates to the tragic reality that approximately 40 percent of deaths from COVID-19 have occurred among older nursing home residents. This day must provide us with the compelling incentive to achieve passage of laws and policies that work to prevent elder abuse of all kinds."
The Elder Justice Coalition and the Alzheimer's Association/Alzheimer's Impact Movement will hold a virtual Congressional briefing on Wednesday, June 17th at 12:00pm ET entitled "Combating Elder Abuse in the Alzheimer's and Dementia Community."

Register for the briefing »
Residents' Rights Month 2020: Connection Matters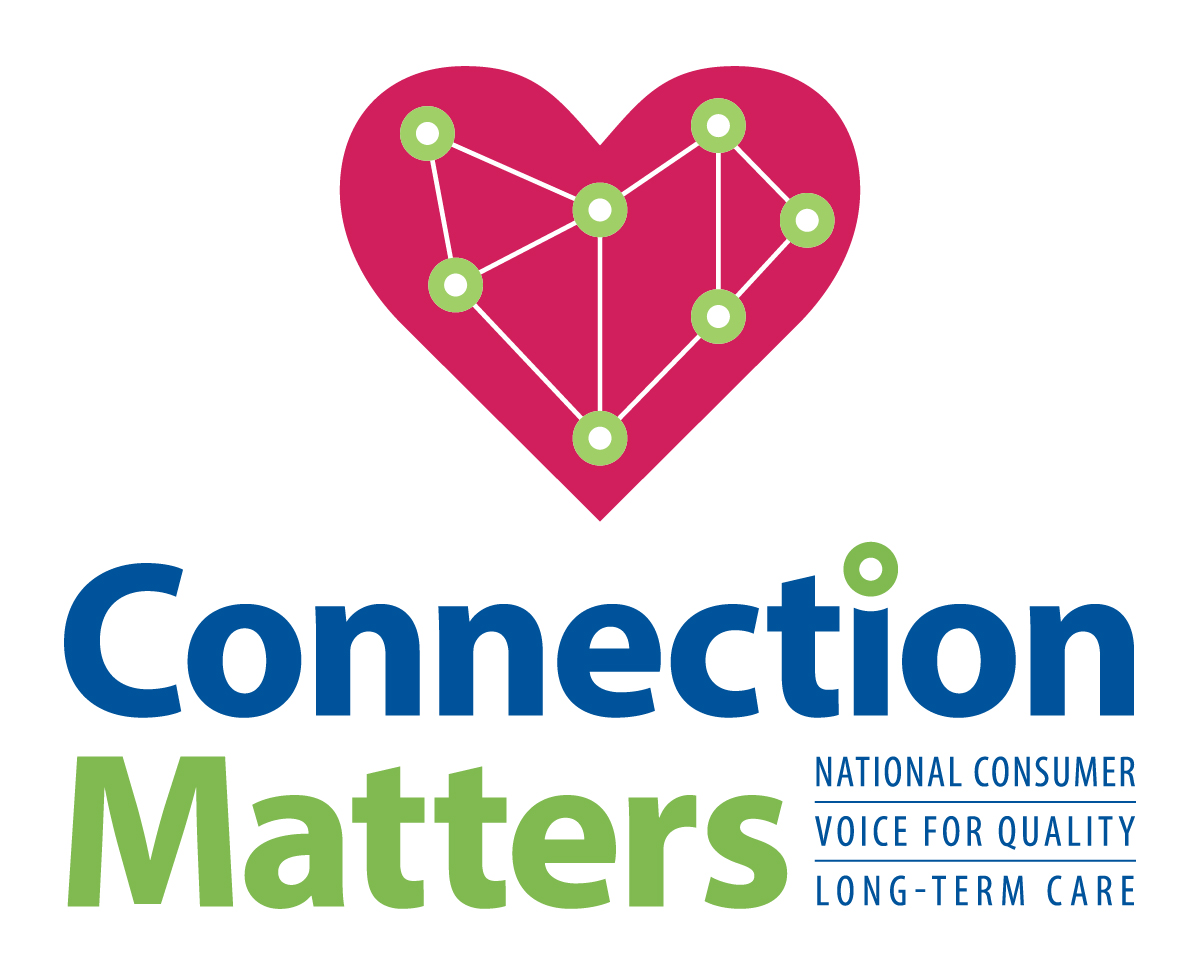 October is Residents' Rights Month, an annual event designated by Consumer Voice to honor residents living in all long-term care facilities and those receiving care in their home or community. It is an opportunity to focus on and celebrate the dignity, respect and rights of every individual receiving long-term services and supports.

This year's theme is "Connection Matters." The theme emphasizes connections – to family, to friends, and to the community – as an essential component of good health and quality of life for residents. The months of restrictions on visitation in long-term care facilities and the inability of residents, families, and friends to be together during the coronavirus pandemic has emphasized the importance of connection, of relationships, and the impact they have on all of our well-being. During this crisis, many creative ways of staying connected were shared that can be replicated and built upon in all communities.

Check back often as our Residents' Rights Month webpage is updated with additional resources and materials.

Resident's Voice Challenge
The Resident's Voice Challenge is an opportunity for long-term care consumers to respond to and reflect on this year's theme. Residents are encouraged to display their writing or artistic skills by submitting essays, poems, artwork, drawings, photos or videos reflecting on the 2020 theme, "Connection Matters."

Residents can respond to one or more of the following questions:

How do you stay connected and engaged with members of your community?

Why does connection matter? What does connection mean to you?

What are new ways that connection and communication have been maintained during the pandemic? It could be connections with family and friends, members of the larger community, or connections within the facility, such as with other residents and staff.

What are the challenges to staying connected and how can they be overcome? What resources or supports are needed?
Submissions are due September 1, 2020. Email submissions to: info@theconsumervoice.org or mail submissions to:
Consumer Voice, Attn: Resident's Voice Entry, 1001 Connecticut Ave., NW, Suite 632, Washington, DC 20036

Find more details about the Resident's Voice Challenge.

Join us this Thursday - Consumer Voice Webinar for Family Members on Advocating for Residents During COVID-19
Families are facing many new issues as they support and care for their loved ones in long-term care facilities during the COVID-19 pandemic. Join Consumer Voice for a webinar on Thursday, June 18th at 2:00pm ET to gain information and tips on how to advocate for quality care individually and through family councils. The webinar will also cover topics of particular concern to family members, including visitation, facility transparency and reporting requirements, transfers and discharges, COVID-19 testing and more. Register »
Watch on Facebook Live by visiting our Facebook page - facebook.com/theconsumervoice - at the time of the webinar on Thursday. Let us know you'll be attending and share the Facebook event with family and friends.

Attend the Next Webinar in the Series from NORC - COVID-19 and Ombudsman Programs: Understanding How Trauma Impacts You, Residents, and Your Advocacy
In partnership with the Colorado Long-Term Care Ombudsman program, Consumer Voice and NORC are offering a four-part webinar series regarding the impact of trauma due to the COVID-19 pandemic on long-term care residents and Ombudsman programs.

The third webinar on Wednesday, June 17, 3 - 4:30 ET will cover Anxiety Related to COVID-19: Tools to Cope and Help Others. This webinar will address anxiety related to COVID-19, coping mechanisms, and tools for you and to help others. Dr. Gibson will discuss coping strategies in response to COVID-19 related anxiety to assist Ombudsman programs and residents you serve. She will also highlight two tools, a COVID-19 anxiety scale and a coping tool that provides simple, practical steps to recognize and address anxiety. Register »
View materials from the first and second webinars in the series on NORC's website.

New NORS Online Training Course
A new National Ombudsman Reporting System (NORS) Online Training Course is available from NORC. This course is an online training tool to help Ombudsman programs understand and comply with NORS reporting requirements. The course contains the same content as existing training materials. However, it provides users with an interactive online option to learn about NORS and take quizzes. This course is located in the NORC Training Center at www.consumervoice.mrooms.net. Watch this short video as an introduction to the NORS Online Training Course. More Information »
Materials Available from NORC Webinar on Cultural and Linguistic Competence
Materials are available from NORC's recent webinar - Cultural and Linguistic Competence: What it Means for Ombudsman Programs. This webinar offered definitions and conceptual frameworks for cultural competence and linguistic competence and examined what they mean for Ombudsman Programs, their staff, and volunteers. It also offered examples of two programs that provide professional development and training on implicit and explicit biases and the unique cultural issues related to underserved lesbian, gay, bisexual, and transgender (LGBT) community within long-term care. See Materials »
Join us for the Webinar Series - COVID-19: Advocating for Nursing Home Residents - Through June; Materials Available from Last Week's Webinar
The landscape of COVID-19 response in nursing homes continues to evolve rapidly at the federal and state levels. Join the Consumer Voice, Center for Medicare Advocacy, Long Term Care Community Coalition and Justice in Aging for additional webinars in our series focused on the impact of COVID-19 on long-term care facilities and its residents. Join us at 2:00pm ET each Friday in June - June 19, and June 26 - as we review the latest updates, issuances from CMS, legislation, and strategies for advocates and families. Register for one or more webinars »
Materials are available from last week's webinar. Watch the recording and see the slides »