August 25, 2020
In this Issue:
Policy Break on Recent CMS Memo on Survey Activities and Enforcement
The Centers for Medicare and Medicaid services (CMS) released a memo, QSO-20-35-ALL, on August 17, 2020 announcing revisions in guidance related to survey activities and enforcement. Consumer Voice issued a Policy Break providing an overview of the memo - including expansion of survey activities and ending of enforcement actions, Consumer Voice comments, and advocacy tips. Read the Policy Break »

Facebook Live Thursday - Putting a Stop to Poor Care
Every resident in long-term care is entitled to quality, individualized care. But what does quality care look like? What are the warning signs of poor care? What red flags should you be looking for in a facility? And what can you do when you see them?

Join us for a conversation Thursday, August 27th at 3pm ET with Eden Ruiz-Lopez, Assistant Deputy Director at the National Center on Elder Abuse, as we discuss putting a stop to poor care and how to advocate for the quality care guaranteed to all residents under federal and state law.

Watch on Facebook Live! - Visit our Facebook page - facebook.com/theconsumervoice - at 3pm ET on August 27 to watch the discussion from there!

Let us know you'll be watching - RSVP to the discussion on Facebook and share with your family members and friends!

Don't have a Facebook? Register and watch the discussion on Zoom!
Webinar Friday on COVID-19, Including Discussion on Visitation

Join us, with Center for Medicare Advocacy, Long Term Care Community Coalition, and Justice in Aging, this Friday, August 28th at 2:00pm ET for a webinar in our series on COVID-19: Advocating for Nursing Home Residents. This week's webinar will include discussion on the status of visitation in states and advocacy on visitation on the national level. It will also cover the latest memo from the Centers for Medicare & Mediciad Services (CMS) on survey activities and enforcement actions. The landscape of COVID-19 response in nursing homes continues to evolve rapidly at the federal and state levels. This webinar will review the latest updates, issuances from CMS, legislation, and strategies for advocates and families. Register »

Staying Connected Activity Book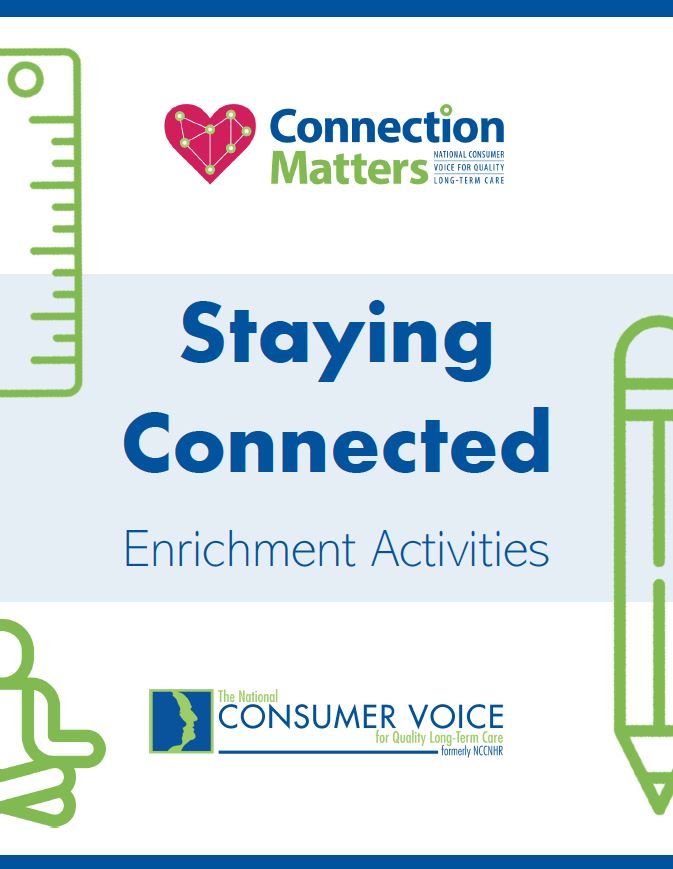 While physical distancing makes in-person activities difficult, our new Activity Book offers residents a variety of activities to keep them entertained and active.

This book includes puzzles, such as word searches and crosswords; space for residents to write about the connections in their lives; trivia questions, which can be done alone or with others; and more! Download and print the Activity Book for free.

The Activity Book, and other ideas for staying connected, can be found on the Consumer Voice website.