September 22, 2020
In this Issue:
In Memoriam - Carter Catlett Williams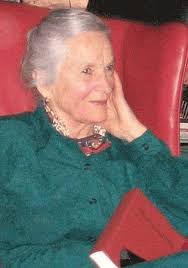 The world lost a giant among advocates for nursing home residents with the passing of Carter Catlett Williams on September 8, 2020. She was a leader in promoting and teaching the importance of relationships and individualized care for residents. In the 1980's she volunteered with NCCNHR, now Consumer Voice, dedicating her time and energy to improving quality care and quality of life for residents. Through her tremendous ability to garner relationships, Carter helped bring together the mentors and leaders of what is now known as the Pioneer Network. While deeply saddened by Carter's passing, Consumer Voice staff and membership celebrate the legacy she leaves and the thought that those who learned from her will continue to pursue individualized care, consistent staffing and a better quality of life for all long-term care residents.

To learn more about Carter Catlett Williams, go to https://www.pioneernetwork.net/carter-catlett-williams/.

CMS Issues Revised Guidance on Visitation in Nursing Homes
After six months of strict visitation restrictions in nursing homes, the Centers for Medicare & Medicaid Services (CMS) released a memo significantly easing those restrictions. The new guidance, which is effective immediately, permits outdoor visitation, indoor visitation, and compassionate care visits and lays out a framework for those visits. CMS notes that this guidance replaces all previous guidance.

Consumer Voice, along with other advocates, has been urging CMS to lift visitation limitations, noting the devastating effect being separated from their loved ones has had on residents. We commend the agency for responding to these concerns and recognizing the value and importance of residents' connections with family and friends. We thank CMS for these changes, which will make a critical difference in the lives of residents, and look forward to continuing to work with CMS toward full restoration of residents' visitation rights.

Read Consumer Voice's summary with key highlights from the September 17th CMS memo.

Coronavirus Commission Report Released
Last week, the Centers for Medicare and Medicaid Services (CMS) and The MITRE Corporation (MITRE) released the final report of the Coronavirus Commission on Safety and Quality in Nursing Homes (Commission). CMS tasked MITRE with organizing the Commission to advise the federal government on how to address the impact of the coronavirus in nursing homes and to provide recommendations for actions that CMS could take to protect residents and staff during the pandemic. The final report includes 27 recommendations and more than 100 action steps. Of the 25 Commission members, 13 endorsed the final report without reservation, 11 endorsed with reservations, and one member did not endorse.

Commission members recognized the need for immediate federal leadership and action in securing the necessary PPE, the importance of a national testing strategy, the negative impact that separation from families and restrictions on visitation has had on the well-being of residents, and the need for additional supports for staff.

Consumer Voice Executive Director Lori Smetanka endorsed the report with reservations. Read her statement.

Five Commission members, including Consumer Voice's Lori Smetanka, sent a statement to CMS on the need for accountability.
CMS issued a response to the report.

Ombudsman Safety Bags Available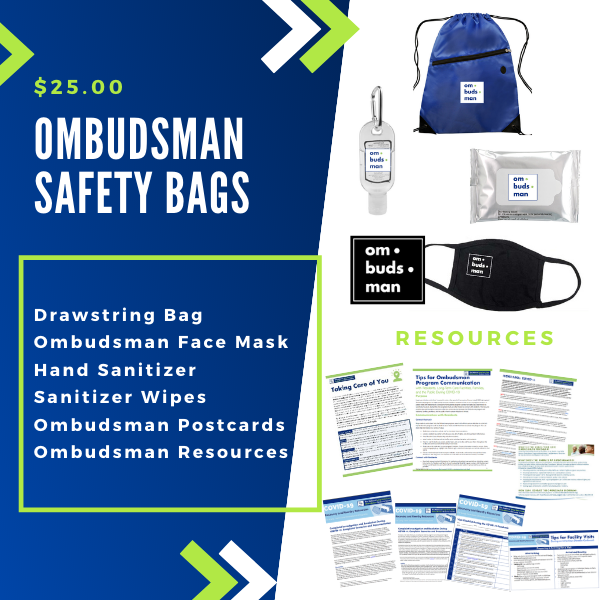 Safety bags are available for Long-Term Care Ombudsmen. The Ombudsman Safety Bags include a cloth Ombudsman imprinted face mask, hand sanitizer, sanitizer wipes, and resources specifically for Ombudsman programs. Items may be purchased with a drawstring bag and resources or separately in packs of 3.

The resources included in the bag are:

Tips for Ombudsman Program Communication with Residents, Long-Term Care Facilities, Families, and the Public During COVID-19
Taking Care of You During COVID-19 Fact Sheet

National Ombudsman Reporting System (NORS) COVID-19 FAQs

25 Copies of the Long-Term Care Ombudsman Program Postcard

COVID-19 Recovery and Reentry Resources for Long-Term Care Ombudsman Programs

Tips for Facility Visits During an Infectious Disease Outbreak

Visit Checklist During the COVID-19 Pandemic

Tips for Communicating While Wearing a Mask

Complaint Investigation and Resolution During COVID-19: Complaint Scenarios and Documentation
For more information about these supplies and costs visit the Consumer Voice store.
Consumer Voice members receive a 10% discount on all items in the store. Email info@theconsumervoice.org to check your membership status and get the discount code.