September 29, 2020
In this Issue:
Consumer Voice Conference Registration is Open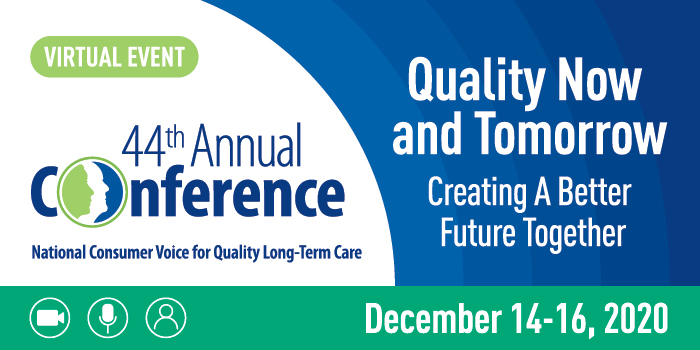 Join us in December as we go virtual for the 2020 Consumer Voice Conference! Expert speakers, the most up-to-date policy information, best practices shared from across the country, and networking with a community of other long-term care advocates - our virtual conference will include the same great content you expect from a Consumer Voice Conference with new, unique opportunities to connect online.

Registration for the conference includes three full days of LIVE programming plus 30 days of access to the recorded sessions after the event.

Webinar Friday on CMS Revised Visitation Guidance
Join us Friday at 2:00pm ET for another webinar in our series on COVID-19, focusing on the revised CMS guidance about visitation and related advocacy.

The landscape of COVID-19 response in nursing homes continues to evolve rapidly at the federal and state levels. This webinar from Consumer Voice, Center for Medicare Advocacy, Long Term Care Community Coalition and Justice in Aging will review the latest updates, issuances from CMS, legislation, and strategies for advocates and families.
CMS Announces Supplemental Funding for the Money Follows the Person Program

The Centers for Medicare & Medicaid Services (CMS) announced last week the availability of up to $165 million in supplemental funding to states currently operating Money Follows the Person (MFP) demonstration programs. This funding will help state Medicaid programs jump-start efforts to transition individuals with disabilities and older adults from institutions and nursing facilities to home and community-based settings of their choosing.

Voting Resources Available on Newly Updated Consumer Voice Webpage
Individuals receiving long-term services and supports retain their voting rights, no matter where they live or what type of care they receive. The ability to vote in the upcoming election presents significant difficulties for residents of long-term care facilities. In prior years, many facilities served as polling places, making it easier for residents to vote. Additionally, residents were able to leave facilities and travel to their polling place or rely on loved ones to bring them mail-in ballots. This year, because of the serious risk that COVID-19 poses to residents of long-term care facilities, polling stations have been moved, facilities have been locked down, and residents may not be able to rely on their loved ones to help them vote. For most residents, the only way they will be able to vote is by mail.

Fortunately, there are many resources available for residents of long-term care facilities to help them obtain mail-in ballots. Nevertheless, many residents will need assistance filling these ballots out and returning them. On our newly updated voting rights webpage, you will find resources to help obtain mail-in ballots, when those ballots are due, and also how to obtain help with voting.
October is Residents' Rights Month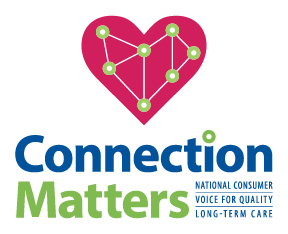 Residents' Rights Month begins Thursday! October is Residents' Rights Month, an annual event designated by Consumer Voice to honor residents living in all long-term care facilities and those receiving care in their home or community. It is an opportunity to focus on and celebrate the dignity, respect and rights of every individual receiving long-term services and supports.

This year's theme is "Connection Matters." The theme emphasizes connections – to family, friends, and the community – as essential components of good health and quality of life for residents. The months of restrictions on visitation in long-term care facilities and the inability of residents, families, and friends to be together during the COVID-19 pandemic has emphasized the importance of connections, of relationships, and the impact they have on our well-being.

Residents' Rights Month may look a little different this year, but there are still ways residents, family members, and facilities can participate in the monthlong celebration of residents' rights. Visit our website for activities, resources, and ways to promote the month.
Training Series for Family Members, Facility Administrators and Direct Care Staff on Understanding Trauma and Ensuring Person-Centered Care During COVID-19

During the month of September, the National Ombudsman Resource Center (NORC) released four training topics for three audiences: facility administrators, direct care staff, and family members of individuals living in long-term care facilities, as part of the training series, Understanding Trauma and Ensuring Person-Centered Care During the COVID-19 Pandemic.

For this series, Dr. Sheri Gibson (see bio) provided training on the following topics: person-centered care, trauma-informed care, compassion fatigue, and anxiety and grief in a time of COVID-19. Each topic included one webinar recording and slides for each audience.

The trainings are available on the NORC website and in the NORC and Consumer Voice On-Demand Training Center. After each recording in the Training Center, quiz questions and answers are also available.