October 6, 2020
In this Issue:
CMS Issues Memo Reaffirming Nursing Home Residents' Right to Vote
The Centers for Medicare & Medicaid Services (CMS) has issued a memo "affirming the continued right of nursing home residents to exercise their right to vote." The memo recognizes the limitations for visitors to enter facilities to assist residents in voting, but states that "nursing homes must still ensure residents are able to exercise their Constitutional right to vote." The memo also encourages collaboration among nursing homes and state and localities to help ensure residents are able to vote.
New Issue of the Resident Advocate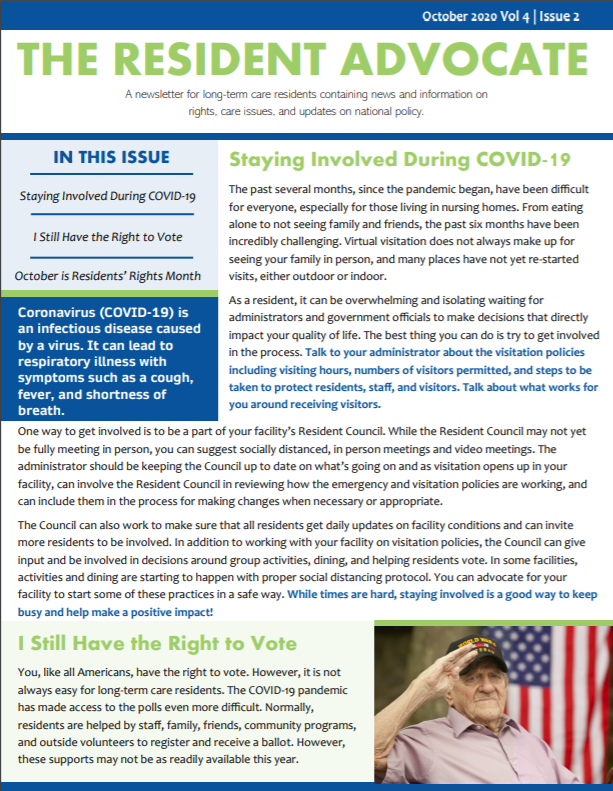 A new issue of the Resident Advocate newsletter is available for free download. The Resident Advocate, is a newsletter for residents of long-term care facilities. It provides information on residents' rights and care issues; news and updates on national policy; and self-advocacy tips for obtaining person-centered, quality care. The newsletter is a great resource for residents and families, and can also be shared among friends, facility staff, ombudsmen, and others. This issue includes information on staying involved during COVID-19; voting rights; and Residents' Rights Month.

Download, print and share the Resident Advocate.

Materials Available from Webinar on CMS Revised Visitation Guidance
Materials are available from Friday's webinar on COVID-19: Advocating for Nursing Home Residents. The webinar series from Consumer Voice, Center for Medicare Advocacy, Long Term Care Community Coalition and Justice in Aging reviews the latest updates, issuances from CMS, legislation, and strategies for advocates and families. This webinar provided an overview of CMS guidance on visitation; what the guidance allows and requires; shortfalls of the guidance; and advocacy strategies.

View webinar materials.
Share Your Experience as Visits Resume in Long-Term Care Facilities

As many facilities across the country begin to allow visitation, many families will be seeing their loved ones in person for the first time in nearly six months. Consumer Voice would like to hear from you about your visits and about how your loved one is managing during the COVID-19 pandemic. Despite the recent guidance issued by the Centers of Medicare & Mediciad Services (CMS), many states are still prohibiting visitation. If you were prevented from visiting your loved one, we want to hear from you, as well. Consumer Voice is seeking your input so that we may use it to advocate, at the state and federal levels, on behalf of residents for the implementation of current visitation requirements and for the expansion of access to their loved ones.

Fill out our reentry survey to share your experience.
Take Action: Sign the petition to tell Congress to oppose immunity for nursing homes
Over 80,000 residents of long-term care facilities have died from COVID-19 since the pandemic began. Countless others have suffered from months of isolation and neglect due to facilities being locked down. Now Senate Majority Leader, Mitch McConnell, has proposed to give nursing homes a free pass for care that harmed or killed residents during the pandemic. In fact, he would allow nursing homes to escape accountability for harmful care until 2024. It is now becoming clear that many of the deaths in long-term care facilities could have been prevented, if facilities had properly staffed their homes, followed infection control procedures, and took other reasonable steps to protect residents. We cannot ask over 80,000 residents to pay with their lives because of the shortcoming of nursing homes, while at the same time allowing nursing homes to face no repercussions.

Sign the petition to tell Congress to protect residents of long-term care facilities and oppose immunity for nursing homes. Hundreds of thousands of lives are at risk.
Webinar on Reuniting Families, with Dr. Susan Wehry
The pandemic has impacted everyone but perhaps none more than people living in long-term care and their families and friends. Our journey of recovery from this unprecedented global pandemic will involve a unique combination of trauma-informed care and disaster relief. Join a webinar on Tuesday, October 13th at 2:00pm ET hosted by Consumer Voice and the Maine Long-Term Care Ombudsman Program as we discuss the principles and interventions of moving forward while supporting ourselves and our families. The webinar, featuring Dr. Susan Wehry, MD, Chief of Geriatrics, University of New England College of Osteopathic Medicine, will talk specifically about visitation in long-term care; as facilities transition to in-person visitation, reconnection with loved ones may present challenges. Join us for discussion and support as you prepare for reunions with loved ones in long-term care, and learn ways you and your family can build sustained resilience for the months to come.
Webinar for Caregivers on Pain and Dementia

Join CaringKind for a webinar series for Alzheimer's and Dementia caregivers - "Pain and Dementia: Approaches That Work." The four sessions in the series will be held Tuesdays at 1:00pm ET beginning October 13th and will cover why pain matters, organizing to treat pain, pharm & non-pharm treatment approaches, and culturual competence and health disparities. All webinars are free. Register here.

Ombuds Day is October 8th

Join the American Bar Association on Thursday, October 8th for Ombuds Day, a recognition of the Ombuds profession and the value Ombuds provide. Attend either the morning or afternoon sessions which will discuss these topics and be of interest to current ombuds, those considering becoming or working with an ombuds, and leaders considering establishing an ombuds program.