Holiday Visits and COVID-19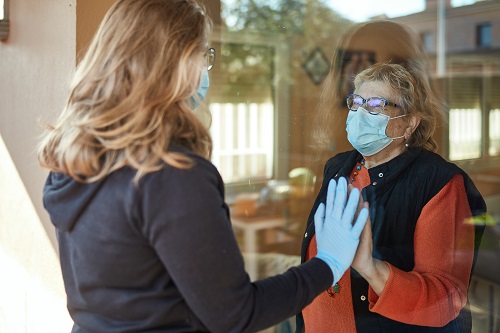 As COVID-19 rates are increasing throughout the country, the Centers for Disease Control and Prevention (CDC) is urging all of us to celebrate virtually or just with members of our own household. The Centers for Medicare and Medicaid Services (CMS) also issued an alert with recommendations to nursing homes, residents, and resident family member(s)/representative(s).
Below are points Ombudsmen can share with family members to consider when they are determining how best to include their loved ones in their holiday plans. These tips are based a fact sheet developed by Consumer Voice. Additional information about visitation in long-term care facilities can be found on the Consumer Voice website.
Know your state's policies regarding visitation. Find the latest CMS guidance and links to state policies here.
Considerations for visiting the facility. Reach out to your loved one's facility now to learn about the current visitation policy and visitation options during the holidays.
Remember that indoor visits are generally restricted when there has been a case of COVID-19 among residents or staff during the past 14 days or the COVID-19 county positivity rate is high. Facilities may not restrict visitation without an adequate clinical or safety reason.

Schedule a time to visit either in-person or virtually as early as possible. If the facility cannot accommodate many requests, you may need to celebrate on a different day. Consider the holidays as a season, not as a specific day.

Find out about testing and PPE requirements in advance and plan accordingly.
Considerations for leaving the facility. CMS is strongly discouraging taking residents out of facilities because of rising COVID-19 rates. If family members are considering taking their loved one(s) out of the facility for the holiday, they need to think about the following:
Does their loved one want to leave the facility to attend a family gathering?

What are the facility's policies for taking a loved one home during the holiday and then returning? Request them in writing. A facility may not refuse to allow a resident to return after a holiday visit.

What are the risks and consequences of leaving the facility? These may include:
Increased risk of exposure

Testing upon return

Quarantine upon return

Would they have to stay in a room that is not theirs upon returning?

What accommodations will be made if there are not enough resident rooms in the facility to quarantine? For example, would the facility be able to use dining rooms, therapy, or activity rooms if necessary?
For more information and resources visit the NORC COVID-19 webpage.
Read archived issues of NORC Notes here. If you have a question, are not able to find a resource, or want to share training materials or program practices, please email ombudcenter@theconsumervoice.org.