February 23, 2021
In this Issue:
Save the Date: A Virtual Rally to Lift the Lockdown
Join Consumer Voice Friday, March 12th at 12:00pm ET for a rally commemorating the one year anniversary of the nursing home visitation ban. The rally will honor those we've lost and provide an opportunity to hear directly from residents and family members about their experiences during the lockdown. It will include a call to action - mobilizing family members, residents of long-term care, and advocates to ask their state and federal policymakers and the Centers for Medicare & Medicaid Services (CMS) to safely "open nursing home doors."

Register to Attend

New Podcast Episode on the Impact of Social Isolation on Nursing Home Residents

In March of 2020, as COVID-19 was spreading through nursing homes at alarming rates, nursing home doors were closed to outside visitors, keeping out families, friends, and other members of the community. At the same time, most residents were required to stay in their rooms, doors often shut, having little contact with others. Listen to the new episode of the Pursuing Quality Long-Term Care podcast where Anne Montgomery and Sarah Slocum, Co-Directors of Eldercare Improvement at Altarum, discuss a survey of nursing home residents by Altarum providing a look at the impact of these restrictions on those living in the facilities and the toll it has taken on their physical and emotional health.
Listen to the new podcast episode on Apple Podcasts, Soundcloud, Facebook, or the Consumer Voice website.

President Biden Nominates New CMS Administrator

President Biden has nominated Chiquita Brooks-LaSure to lead the Centers for Medicare & Medicaid Services (CMS). She is currently managing director at Manatt Health, a professional services firm, and she previously worked as a senior CMS official under the Obama Administration. She also previously worked for the House Ways and Means Committee with President Biden's pick for lead of the Department of Health and Human Services and then-congressman Xavier Becerra. The CMS administrator position requires Senate confirmation.
For more information, read the article in McKnight's.

Life in a Nursing Home During COVID-19 - Videos from Residents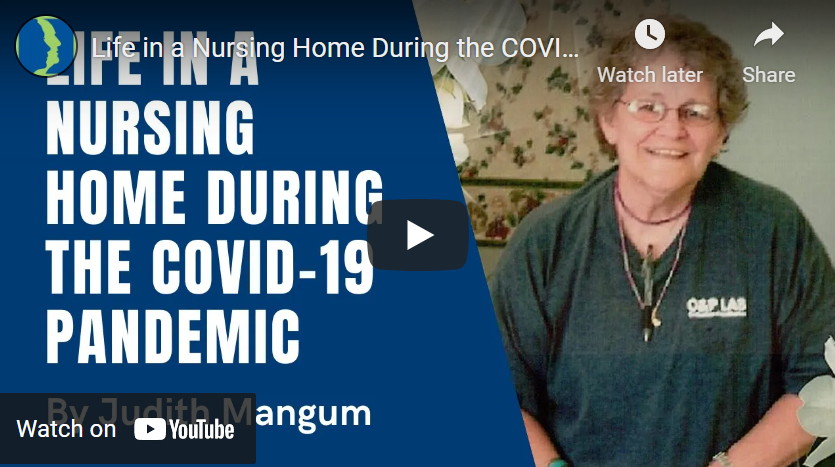 Judith Mangum, resident of a nursing home, shared, in an essay and video, her experience living in a nursing home during the COVID-19 pandemic.

"The lives of all have changed but none as much as those living in nursing homes and assisted living facilities. We all woke up one day and learned that some pandemic would change life as we knew it...We were told to stay in our rooms and go no further than our food. I am a social person, so I really felt closed off not only from those in this place, I could no longer have visits from family or friends...We are tired physically but also mentally....be it staff or resident. It doesn't matter. We are tired! When will this all change?"

See her story and others on our website.
Artifacts of Culture Change 2.0 from Pioneer Network

Pioneer Network has created Artifacts of Culture Change 2.0. Artifacts of Culture Change 2.0 (ACC) is an internal implementation, inspiration, and self-assessment tool. It is a tool that a nursing home on a culture change journey can use to become aware of concrete changes that leading homes have made to their policies, practices, and environment due to their commitment to the principles of culture change. The ACC website includes self-assessments for nursing homes and assisted living communities, a resource library, and on-demand videos.
Center for Medicare Advocacy Annual National Voices of Medicare Summit & Lecture

Join the Center for Medicare Advocacy (CMA) as they celebrate 35 years of Medicare advocacy at their 8th Annual National Voices of Medicare Summit & Senator Jay Rockefeller Lecture on Thursday, April 1st 1:00pm-4:00pm ET. The virtual presentation will feature Dr. Donald Berwick, President Emeritus and Senior Fellow at the Institue for Healthcare Improvement and previously Administrator of the Centers for Medicare & Medicaid Services (CMS). The event will feature two panels - Challenges and Opportunities Facing Medicare and Health Care in the New Administration and Congress; and Acknowledging Health Disparities and Advancing Health Equity. Discounted early registration is available through February 28th.