May 4, 2021
In this Issue:
CDC Guidance on Dining and Other Activities for Vaccinated Nursing Home Residents

The Centers for Disease Control and Prevention (CDC) released updated recommendations for long-term care facilities last week. The updates include:

Vaccinated residents can now participate in group activities and dining with other vaccinated residents without masking or social distancing. (If unvaccinated people are present, then everyone should wear PPE and unvaccinated people should continue social distancing.)

Vaccinated residents and their vaccinated visitors, who are visiting alone in the resident's room or another designated visitation room, can have close contact without PPE.
New Issue of the Resident Advocate Newsletter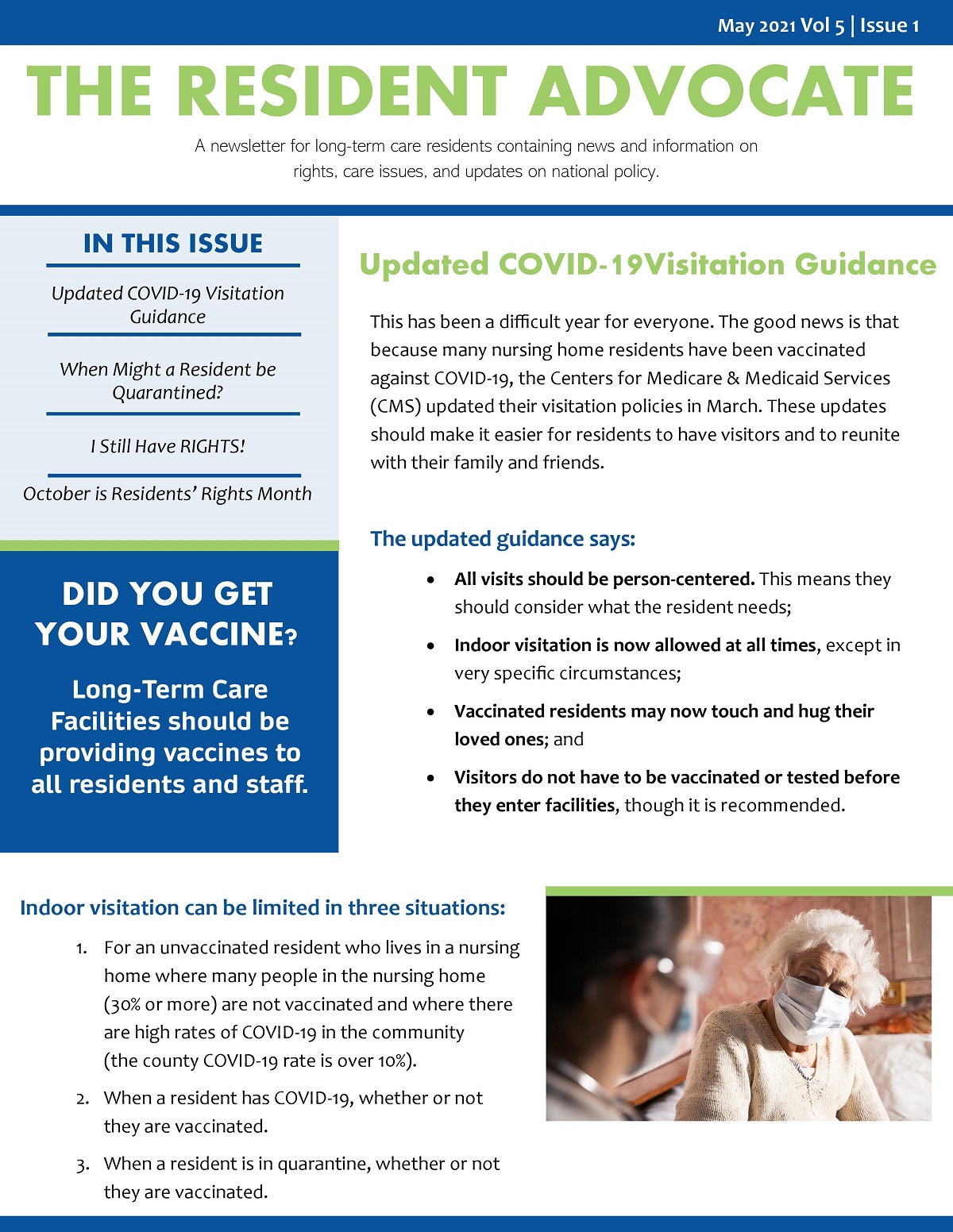 The May 2021 issue of The Resident Advocate, a newsletter for residents of long-term care facilities, is now available. The Resident Advocate provides:

Information on residents' rights and care issues

News and updates on national policy

Self-advocacy tips for obtaining person-centered, quality care
This issue includes information on visitation, group activities, and quarantining, including recent CDC and CMS guidance. It also includes links to our Resident Experience Survey, our webpage of resident stories from the COVID-19 pandemic, and information about this year's Residents' Rights Month.
The newsletter is a great resource to share with long-term care residents. Nursing home staff, long-term care Ombudsman programs, family members, and other advocates are encouraged to forward this newsletter to residents or print and share copies. Download this issue or past issues from our website.

Seeking Feedback on Resident and Family Member Experiences

Consumer Voice is seeking feedback from residents of long-term care facilities and their family members and friends about their experiences with visitation in the facility. Over the past several months, the Centers for Medicare & Medicaid Services (CMS) has updated its guidance on visitation in nursing homes. Despite the updated guidance and significant decrease in COVID-19 cases in facilities, there are nursing homes that are still prohibiting visitation or placing inappropriate restrictions on how visitation and activities may occur. We want to hear from residents and families about what your experience has been since CMS has updated its guidance.

Consumer Voice is seeking your input so that we may use it to advocate, at the state and federal levels, on behalf of residents. Please share these surveys.
Recording and Materials Available from Conversation on Using CMS Guidance to Open Nursing Home Doors

The recording and materials are available from Consumer Voice's conversation last week about using the guidance from the Centers for Medicare and Medicaid Services (CMS) to open nursing home doors. This conversation with Consumer Voice's Robyn Grant and Jocelyn Bogdan covered how residents, families, and advocates can use CMS guidance to facilitate in-person visitation. While the new guidance expands visitation, many residents and families still have questions and concerns.

After providing a brief overview of the CMS guidance, we discussed several of the most common issues, including strategies and tips for applying the guidance to help open nursing home doors. Our conversation also covered the recent guidance from the Centers for Disease Control and Prevention (CDC) that limits when residents should be quarantined.

Listen to the Conversation
May is Older Americans Month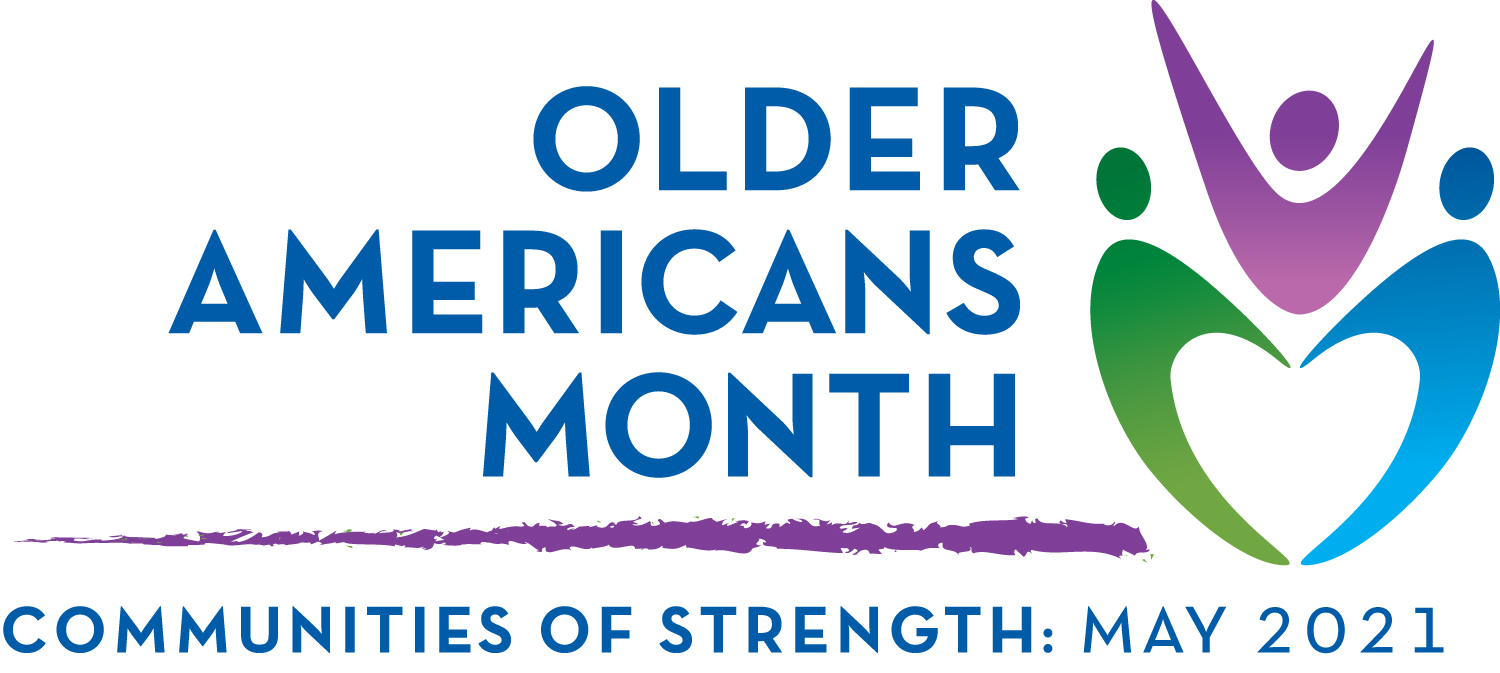 Every May, the Administration for Community Living leads the nation's observance of Older Americans Month (OAM). This year's theme is "Communities of Strength." Older adults have built resilience and strength over their lives through successes, failures, joys, and difficulties. Their stories and contributions help to support and inspire others. This OAM celebrates the strength of older adults and the Aging Network, with special emphasis on the power of connection and engagement in building strong communities.

Visit ACL's OAM website for activity ideas, promotional materials, and more.

Materials Available from NORC Webinar on Successful Volunteer Recruitment; Register for the TA Open Dialogue Series

Materials are available from the first webinar in the National Long-Term Care Ombudsman Resource Center (NORC)'s TA Open Dialogue Series for long-term care Ombudsman programs on COVID-19 Recovery and Reentry. The first webinar addressed Successful Volunteer Recruitment, Training, and Retention During COVID-19. Join NORC for the next two webinars in the series - Successful Communication During COVID-19 on Tuesday, May 11th at 2:00pm ET and Successful Complaint Investigation and Resolution During COVID-19 on Tuesday, May 25th at 2:00pm ET.

Register for the Series