August 3, 2021
In this Issue:
CMS Reinstitutes Tougher Penalties for Past Nursing Home Deficiencies

Earlier this year, the National Consumer Voice for Quality Long-Term Care (Consumer Voice) and California Advocates for Nursing Home Reform (CANHR) filed with the assistance of counsel AARP Foundation and Constantine Cannon LLP a lawsuit challenging a Centers for Medicare and Medicaid Services (CMS) 2017 directive that weakened the enforcement standards of the Nursing Home Reform Act and put residents at risk of harm. Last week, CMS reversed course, rescinding the directive and reinstituting stronger penalties for nursing home violations.

The guidance at the center of the lawsuit restricted the use of civil money penalties for past non-compliance to a "per instance" maximum fine rather than allowing fines for each day of noncompliance. This policy significantly reduced the penalties imposed for violations that placed residents at risk of harm and removed incentives for nursing homes to detect and fix serious problems quickly.

"This action by CMS will provide incentive for nursing homes to identify and correct problems in a timely manner, as required by the Nursing Home Reform Act," said Lori Smetanka, Executive Director of the Consumer Voice. "A strong enforcement system is necessary to protect residents from harm. The Consumer Voice commends CMS for this important action."

In rescinding the guidance, CMS stated "upon further consideration … the agency should retain the discretion at this time to impose a per-day penalty where appropriate to address specific circumstances of prior noncompliance."

Read the article on the topic in the New York Times.

New Issue Brief on the Essential Caregivers Act

The Essential Caregivers Act (H.R. 3733) is bipartisan legislation that gives residents of nursing homes the right to access essential caregivers (ECs) during any public health emergency. An essential caregiver is a person, designated by the resident, who can enter the facility, even when visitation is shut down during a public health emergency, to provide support, assistance, and companionship to the resident.

Very often, this person is a family member. Each resident can select up to two essential caregivers. These visits will be guaranteed as long as the essential caregiver follows all the safety and infection protocols required of staff so they do not pose any increased risk to resident safety. Essential caregivers who refuse to follow the same protocols will be denied entry. This Act is critical to resident well-being because it:

Ensures residents receive critical support and assistance;

Permits those serving as ECs to monitor residents' care; and


Guarantees daily visits of sufficient length to benefit/support residents even during a public health emergency.
New Podcast on How to Advocate for Your Loved One When they are Labeled a "Bad Fit"

A new episode of the Pursuing Quality Long-Term Care podcast is now available. When facilities tell residents and their families that they are "not a good fit" or encourage antipsychotic medications, often families feel pressured and aren't sure how to advocate for their loved ones. In this conversation, we first hear from Kathy, a family member who went through this experience with her mother. We then speak with Tony Chicotel from California Advocates for Nursing Home Reform (CANHR), about steps family members can take, the specific rights nursing home residents have, and how families can work with facilities to ensure their loved one receives quality long-term care. Listen to this episode on Apple Podcasts, SoundCloud, or on our website.

Listen to the podcast.
New Assisted Living Licensure Law in Minnesota Will Better Protect Consumers

The Assisted Living Licensure Law under Minnesota Statutes was passed and went into effect on Sunday. Minnesota was the only state that did not license assisted-living facilities so for the first time, facilities will be licensed, and residents will be protected against arbitrary evictions and retaliation for reporting mistreatment. Facilities are prohibited from deceptive marketing or discrimination based on source of payment. The law also clarifies the resident's right to in-room cameras or other devises. Facilities will be required to evaluate the physical and cognitive needs of every newly admitted resident and facilities will need to provide access to a registered nurse 24 hours a day, seven days a week. The law also strengthens training requirements for staff who care for people with dementia.
Read more about what is included in the law from the Minnesota Citizen Advocacy group. Read more about this issue in the Star Tribune.

NORC Infographic for New Long-Term Care Ombudsmen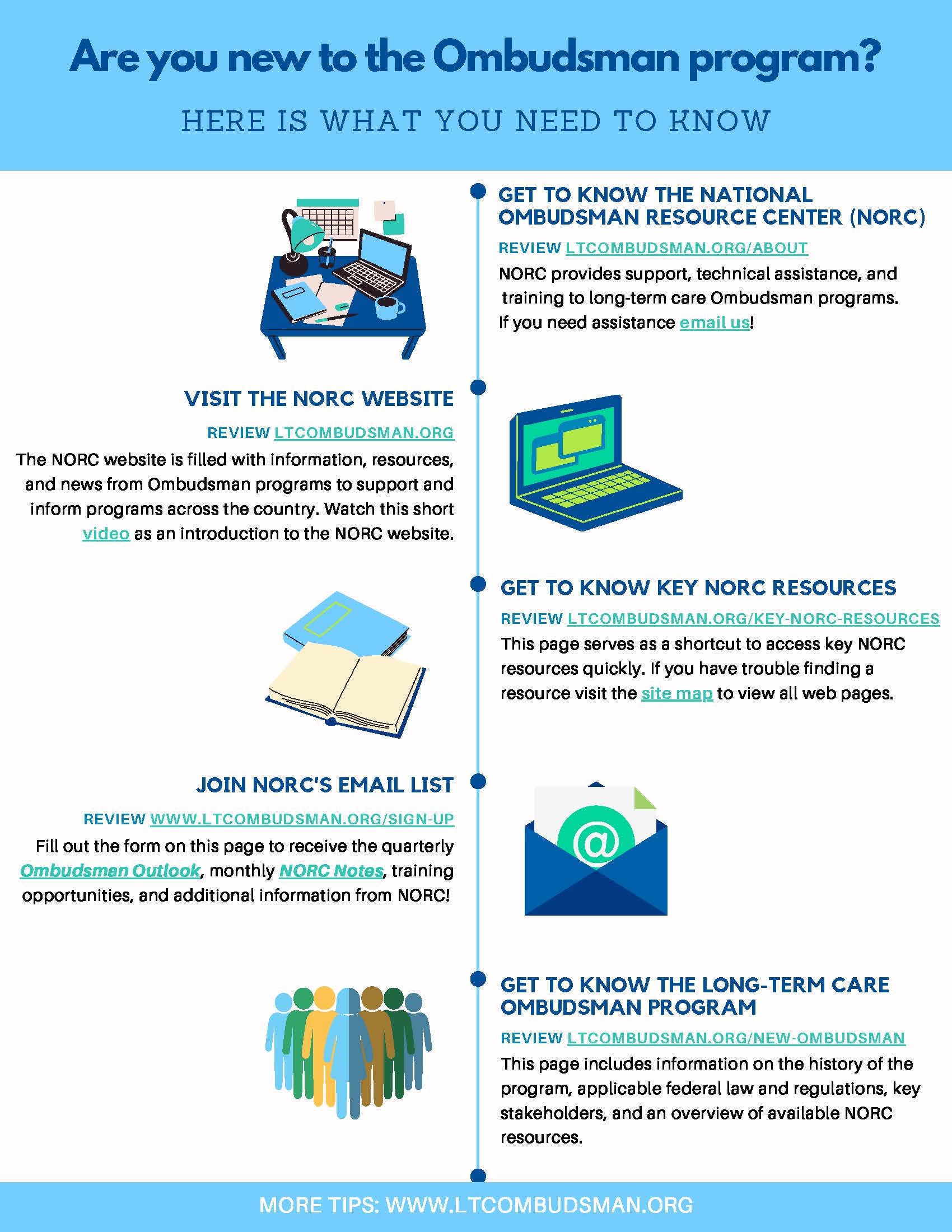 This infographic provides a step-by-step checklist for new Ombudsmen to acquaint themselves with the National Long-Term Care Ombudsman Resource Center (NORC) and includes links to important webpages and resources, information about the Ombudsman program, the sign-up page for NORC's email listserv, and their email address if you have any technical assistance questions.
Ombudsman Masks Available in Online Store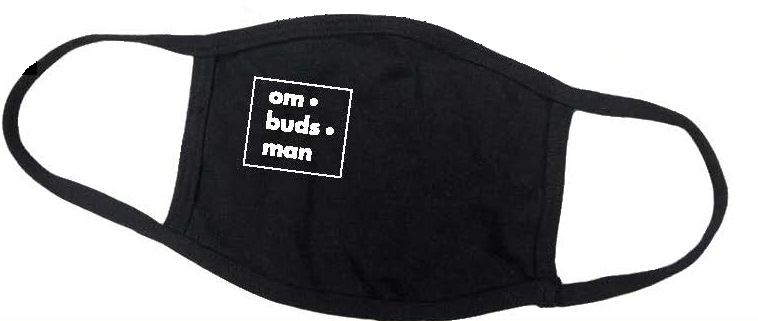 As you begin re-entering long-term care facilities, identify to residents and staff as an ombudsman by wearing an ombudsman face mask. These masks are made of 2-ply cotton and have a pocket for a filter. Masks are available in packs of three, five, and ten.