Senate Introduces Nursing Home Improvement and Accountability Act

Last week, Senate Finance Committee Chairman Ron Wyden (D-OR) and Senate Aging Committee Chairman Bob Casey (D-PA), along with Senators Richard Blumenthal (D-CT), Michael Bennet (D-CO), Sheldon Whitehouse (D-RI), and Sherrod Brown (D-OH), introduced the Nursing Home Improvement and Accountability Act of 2021. This legislation would increase transparency, accountability, and oversight in nursing homes, improve staffing, and support innovation in the structure and culture of these facilities.

More than 184,000 residents and staff died from COVID-19, and tens of thousands more from the effects of isolation and neglect. This tragedy shone a spotlight on broader, systemic, and long-standing problems in nursing homes, including inadequate staffing levels and lack of accountability. This legislation is critical for moving us forward toward achieving quality care and quality of life for long-term care facility residents.

Select provisions of the Nursing Home Improvement and Accountability Act include:

Requiring minimum staffing standards based on updated studies

Requiring a Registered Nurse onsite in nursing homes 24 hours/day, 7 days/week

Mandating an Infection Preventionist at least 40 hours per week

Reviewing how the survey and enforcement system can be improved and providing resources to make those improvements

Auditing of SNF cost reports

Banning pre-dispute arbitration agreements in nursing homes, HCBS and home health services

Expanding the Special Focus Facility program to 5% of all SNFs

Improving data collection and reporting requirements

Enhancing funding through Medicaid to support staff improvements and increase wages and benefits

Establishing a demonstration project to modify nursing home building requirements, i.e. limiting size to 5-14 residents, universal design, private bedrooms and bathrooms, shared living spaces
The Consumer Voice supports the legislation and looks forward to working with Senate and House members to ensure that its provisions will improve quality of care and quality of life for all residents of nursing homes.

We will continue to provide updates, information, and action steps as this legislation progresses.

Learn more about the Nursing Home Improvement and Accountability Act of 2021 by accessing the legislative text, a bill summary, and a section-by-section summary of the bill.
New Residents' Rights Products Available in Online Store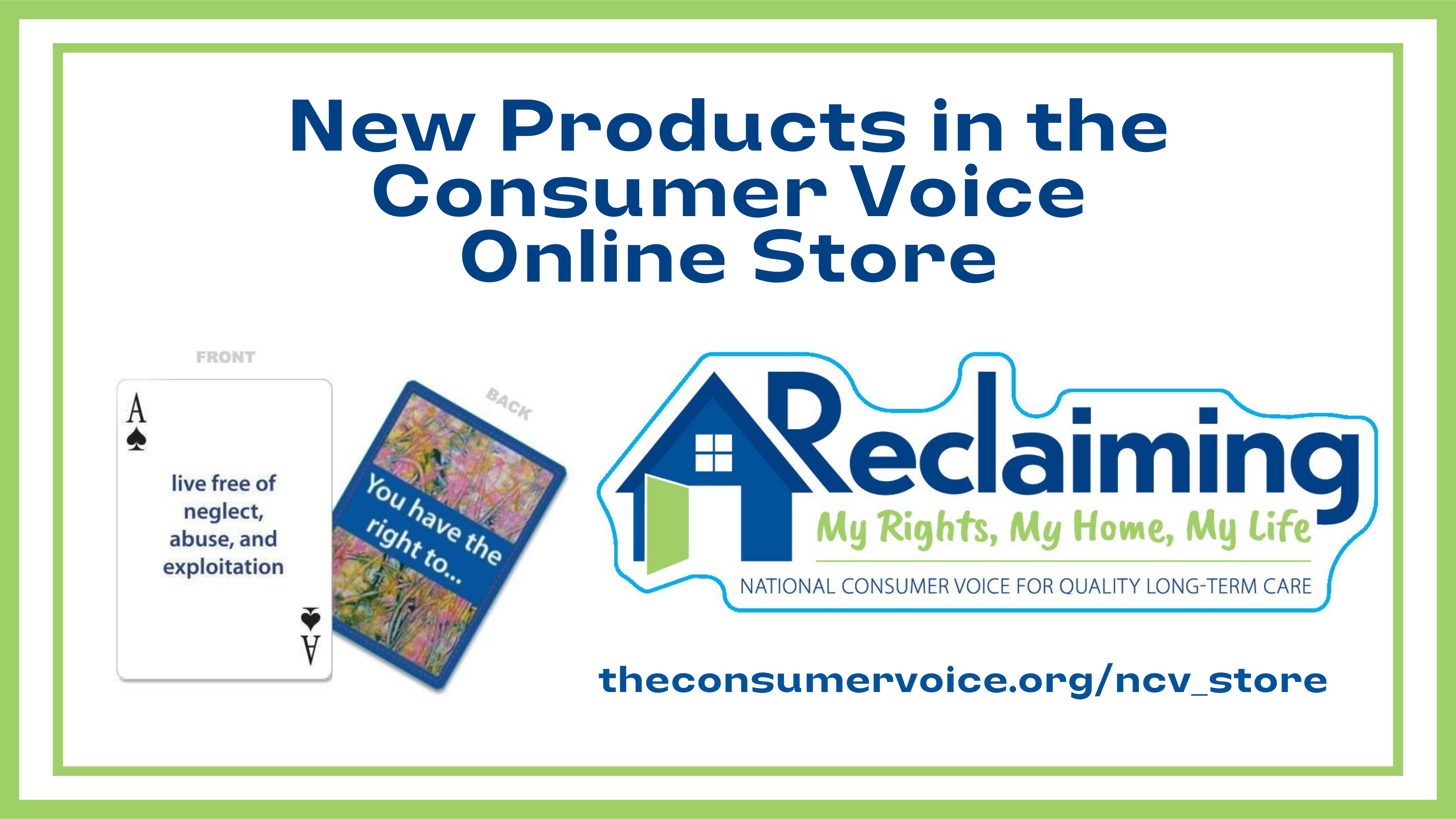 New products are now available in the Consumer Voice Online Store:
Residents' Rights Playing Cards ($8) - Learn about residents' rights while playing cards! Each card highlights a different residents' right. The back of the cards features colorful artwork created by residents in Lanai City, Hawaii. A full deck of cards is included with a box to store the cards.
Residents' Rights Month Die-Cut Stickers - Promote this year's Residents' Rights Month theme - Reclaiming My Rights, My Home, My Life - with premium die-cut stickers. Stickers are available in packs of 50 ($20) and 100 ($35).
Plus, Ombudsman masks are still available.
Consumer Voice members receive 10% off of store orders. Email csteier@theconsumervoice.org to check your member status and get the coupon code. Become a member or renew your membership on our website.
Resident's Voice Challenge Entries Due September 1st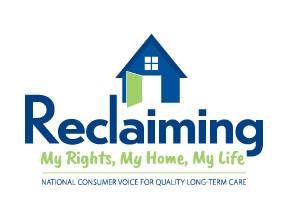 Residents are invited to get creative by participating in this year's Resident's Voice Challenge. The Resident's Voice Challenge is an opportunity for long-term care consumers to respond to and reflect on this year's theme - Reclaiming My Rights, My Home, My Life.

This year's theme emphasizes that the long-term care facility is the residents' home. As part of the Resident's Voice Challenge, we will be selecting original resident artwork to be featured on a door hanger. Submissions are due September 1, 2021.

We will select one or more pieces of resident artwork to be featured on the Consumer Voice website and on a door hanger available in the Consumer Voice online store. Residents will be notified if their artwork has been selected. Residents whose artwork is selected will receive complimentary door hangers.

Visit our website to review full criteria for participating in the Resident's Voice Challenge.
What to Look for and Questions to Ask When Visiting a Long-Term Care Facility

As you visit your loved one in person in a long-term care facility, it's important to know what to look out for and what types of questions to ask. Take a moment to look at your loved one and your surroundings. You'll want to note any changes in your loved one's appearance or demeanor to get a better sense of the impact on them.

Read our fact sheet, Reuniting Residents and Families: What to Look for and Questions to Ask as You Resume Visits in a Long-Term Care Facility, for tips and suggestions including:

Observe your loved one's appearance and demeanor - Have they lost or gained weight? Do their hair, skin, and nails appear clean and healthy? Has there been a change in their energy level, alertness, or in their ability to walk or get in and out of bed?
Look at what is happening in the building - Do rooms and common areas in the facility appear clean? Are face masks being worn? Does there appear to be a sufficient number of staff in the building?
Ask your loved one questions during your visit to get a better understanding of their experience - Ask how they are spending their days/what activities they have been doing; ask if they're getting the help they need from staff; ask what medications they have been taking and how they feel when taking the medications.
If you have concerns or issues with the care your loved one is receiving:

Talk to the nurse on duty

Request a care planning meeting

Talk to the director of nursing or administrator

Contact the Long-Term Care Ombudsman Program

Discuss issues with your facility's family council

File a complaint with your state survey agency