September 7, 2021
In this Issue:
Consumer Voice and Other Advocates Submit Recommendations to CMS on Visitation

Last week, Consumer Voice, with the Center for Medicare Advocacy, Long Term Care Community Coalition, and California Advocates for Nursing Home Reform, sent recommendations to the Centers for Medicare & Medicaid Services (CMS) in light of the recent increase in COVID-19 cases and Delta variant. Over the last 4-6 weeks, the Consumer Voice and our partner advocates have increasingly heard from residents, families, and Ombudsmen about outbreaks occurring in facilities and resulting lockdowns that, to a large degree, are being imposed on all residents of facilities. In our recommendations, we emphasized the need to apply the lessons learned from the past year to ensure that residents do not once again become isolated and experience the desolation, decline, neglect, anxiety, and other consequences of isolation that have been so prevalent – and devastating – during this pandemic.

Our recommendations to CMS:

Start from the premise that visitation is allowed for all residents at all times. Facilities must ensure that evening and weekend hours are widely available, and that visiting times are reasonable in length (i.e., offer an hour at minimum). By not offering visiting hours during the evening and on weekends, facilities are excluding many families, or putting them in a position of having to take time off work. This burden is unreasonable and unnecessary and does not reflect the needs of the residents and their loved ones.
Outdoor visits must also be permitted, even during outbreaks, weather permitting.
Reiterate and enforce that compassionate care or end of life visits are permitted at all times and are not subject to visiting hours or restrictions due to COVID outbreaks. We would recommend clarifying that every resident is eligible for compassionate care visits based on that person's needs.
Require all persons entering the facility to show proof of vaccination or a negative COVID test (within 72 hours).
Visitors and anyone entering the facility should follow the same infection control and prevention protocols as staff.
Permit visits in resident's rooms and in other designated areas of the facility.
Ensure that surveys and complaint investigations continue, with meaningful enforcement for deficiencies that are cited, even as outbreaks occur or cases rise. Require surveyors to ask about visitation while onsite, even if that is not the subject of a complaint.
Reiterate in the guidance that nursing homes are expected to have sufficient staffing at all times to meet the needs of residents, including assistance with visitation.
Consumer Voice Submits Comments to Pennsylvania DOH in Support of Minimum Staffing Standard

On August, 30, 2021, Consumer Voice submitted comments to Pennsylvania's Department of Health (DOH) in support of proposed regulations mandating a minimum staffing standard of 4.1 hours of resident care per day. For years, nursing home residents across the country and in Pennsylvania have suffered due to inadequate staffing. The absence of a federal minimum staffing standard has allowed facilities to perennially understaff their facilities to maximize profits. COVID-19 laid bare the devastating impact of under-staffing on nursing home residents. The proposed regulations would be a pro-active step to prevent a repeat of the catastrophic event.

By mandating 4.1 hours per resident day (hprd), Pennsylvania would join New Jersey in becoming a national leader in implementing a staffing standard that is supported as a best practice by research and experts in nursing. Higher staffing ratios are associated with better resident care and health outcomes. It is indisputable that by adopting a 4.1 hprd standard, many of the lives of Pennsylvania's most vulnerable residents will be saved, while resulting in an increase in positive health outcomes for all residents. We commend Pennsylvania for taking bold action to protect nursing home residents.

Read our full comments.
House Introduces Nursing Home Improvement and Accountability Act

Last week, House Ways and Means Committee Chairman Richard E. Neal (D-MA) and House Energy and Commerce Committee Chairman Frank Pallone, Jr. (D-NJ) introduced legislation to update federal nursing home policy to improve quality of care and oversight, after the COVID-19 pandemic took the lives of hundreds of thousands of residents and workers in nursing homes. Senate Finance Committee Chairman Ron Wyden (D-OR) and Senate Aging Committee Chairman Bob Casey (D-PA) released a companion version in the Senate last month.

The "Nursing Home Improvement and Accountability Act" takes steps to improve nursing homes by filling much-needed gaps in staffing, transparency, accountability, oversight, and the structure and culture of facilities. The bill would require nursing homes to meet minimum staffing standards, ensure a Registered Nurse (RN) is available 24 hours a day, require a full-time infection control and prevention specialist, and provide additional resources through Medicaid to support these care and staffing improvements and raise wages. The bill also takes a number of steps to increase transparency and accountability by improving data collection, providing better information to residents and their families, and enhancing the effectiveness of state surveys.

The Consumer Voice supports the legislation and looks forward to working with Senate and House members to ensure that its provisions will improve quality of care and quality of life for all residents of nursing homes.

Learn more about the Nursing Home Improvement and Accountability Act by accessing the legislative text, a bill summary, and a section-by-section summary of the bill.

This week the House Ways & Means Committee is marking up the Build Back Better Act, which includes sections of the Nursing Home Improvement and Accountability Act. Watch the mark-up later this week on the Ways & Means website.
Session Topics at the 2021 Consumer Voice Conference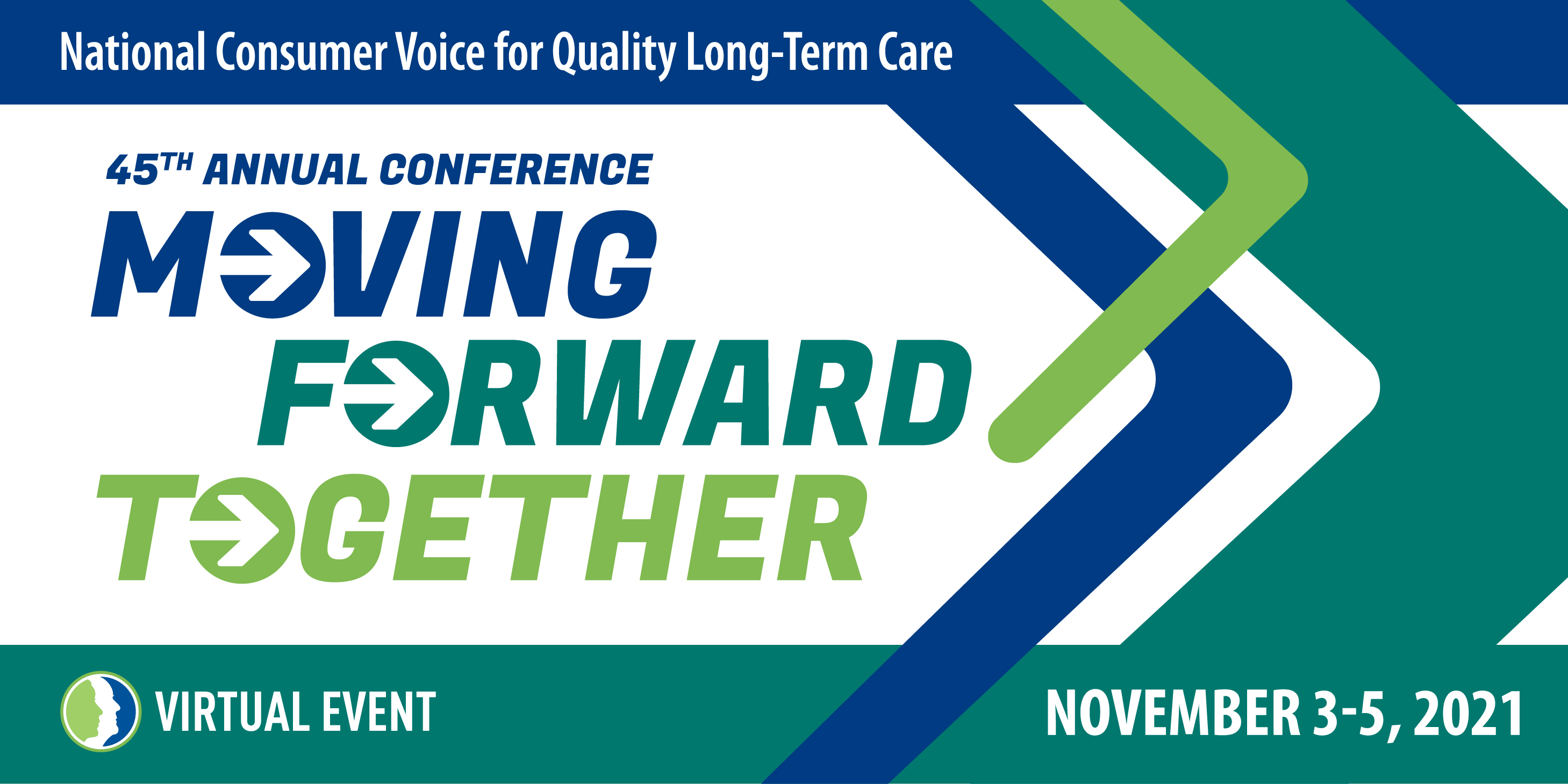 Join us in November as we go virtual for the 2021 Consumer Voice Conference! Expert speakers, the most up-to-date policy information, best practices shared from across the country, and networking with a community of other long-term care advocates - our virtual conference will include the same great content you expect from a Consumer Voice Conference with unique opportunities to connect online. Registration for the conference includes three full days of LIVE programming plus 30 days of access to the recorded sessions after the event.

See the preliminary agenda here.

Session Topics

Nursing Home Surveys: Expectation vs Reality

Family Advocacy during COVID-19

An Update on Public Policy

The Direct Care Workforce Crisis: What Should Advocates Know (And Do)?

Lessons Learned Building a State Advocacy Organization

Addressing Inequities and Disparities of Care

Elder Abuse: Raising Awareness Toward Prevention

Strengthening the Caregiving Team: Family Caregivers and Direct Care Workers

Guardianship and Long-Term Care: Improving Policy and Practice

Community Advocacy Toolkit on Increasing Outreach and Partnerships with the LGBTQ+ Community

Pushing Together for Transformational Change

Pandemic Process: An Advocate's Story

Understaffing as Abuse: Building Your Case for Better Care

Fair is Fair No Matter Where?: Assisted Living Discharges

A Dialogue with Residents of Long-Term Care

A Journalist Called Me, Now What?: Leveraging Local Media to Promote Systems Advocacy

Finding a Systems Approach in Advocacy for Isolated Long-Term Care Residents
and more ...

Learn more and read FAQs on our website.