September 21, 2021
In this Issue:
CMS Announces New Tool to View Nursing Home Vaccination Rates

The Centers for Medicare & Medicaid Services (CMS) announced today a new feature on Medicare Care Compare that will make it easier to check COVID-19 vaccination rates for nursing home staff and residents. Search a nursing home's zip code, click on the name of the nursing home, then scroll down to click "View COVID-19 Vaccination Rates" to see the data.

Medicare and Medicaid-certified nursing homes have been required to report weekly COVID-19 vaccination data for both residents and staff since May, and CMS has been posting the information on the CMS COVID-19 Nursing Home Data website. The new tool on Care Compare is in addition to the data being posted on the COVID-19 Nursing Home Data website.
Consumer Voice Legislative Update Webinar Next Thursday

Join Consumer Voice Thursday, September 30 at 2:00pm ET for a legislative update. Congress is in session and considering bills that will impact long-term care quality and access to services. Join us for a review of current bills, including the Nursing Home Improvement and Accountability Act and the Essential Caregivers Act; learn about the budget reconciliation process and timeline, and what provisions affecting long-term care are being considered; and discuss strategies for advocacy and outreach to members of Congress.

California Legislature Passes Bill that Will Require Skilled Nursing Facilities to Report Their Finances Publicly

The state legislature in California has passed Senate Bill 650, the Corporate Transparency in Elder Care Act of 2021, which will require skilled nursing operators to report their finances to the state and the public. Organizations that operate, conduct, own, manage, or maintain a skilled nursing facility will be required to file an annual financial report with the Office of Statewide Health Planning and Development "that includes data from all operating entities, licenseholders, and related parties in which the organization has an ownership or control interest of 5% or more and that provides any service, facility, or supply to the skilled nursing facility," according to the bill. The bill will provide increased transparency of the finances of nursing home chains who use complex ownership structures to increase their profitability.

The bill was supported by the California Advocates for Nursing Home Reform (CANHR), SEIU California, AARP California, Disability Rights California, and several other advocacy groups. SB 650 has been sent to California Governor Gavin Newsom to sign.
HHS Announces $25.5 Billion in COVID-19 Funding for Healthcare Providers

The Biden-Harris Administration announced that the US Department of Health and Human Services (HHS) will make available $25.5 billion in new funding to help healthcare providers with costs associated with the COVID-19 pandemic. The funding includes $8.5 billion for rural providers and $17 billion for providers who can document revenue loss and expenses associated with the pandemic.

Learn more in the press release from HHS.
Quarterly TA Talks for Long-Term Care Ombudsman Program Representatives

The National Long-Term Care Ombudsman Resource Center (NORC) provides daily in-depth technical assistance, consultation, information, and referral, for Ombudsman programs. To increase direct access to technical assistance (TA) and peer support, NORC will host quarterly live technical assistance dialogues.

Each TA Talk will focus on one topic. To open the discussion, NORC staff, subject matter experts, or your peers will briefly provide information and/or highlight resources then attendees will have ample time to seek technical assistance and ask questions. Attendees are encouraged to share their expertise and experiences to provide peer-to-peer support and learn from each other.

Register for the first TA Talk on September 29, 3:00 – 4:00 ET on the National Ombudsman Reporting System (NORS). To help shape our discussion about NORS we encourage you to start sending your questions to ombudcenter@theconsumervoice.org now.
New Enrichment Booklet for Residents of Long-Term Care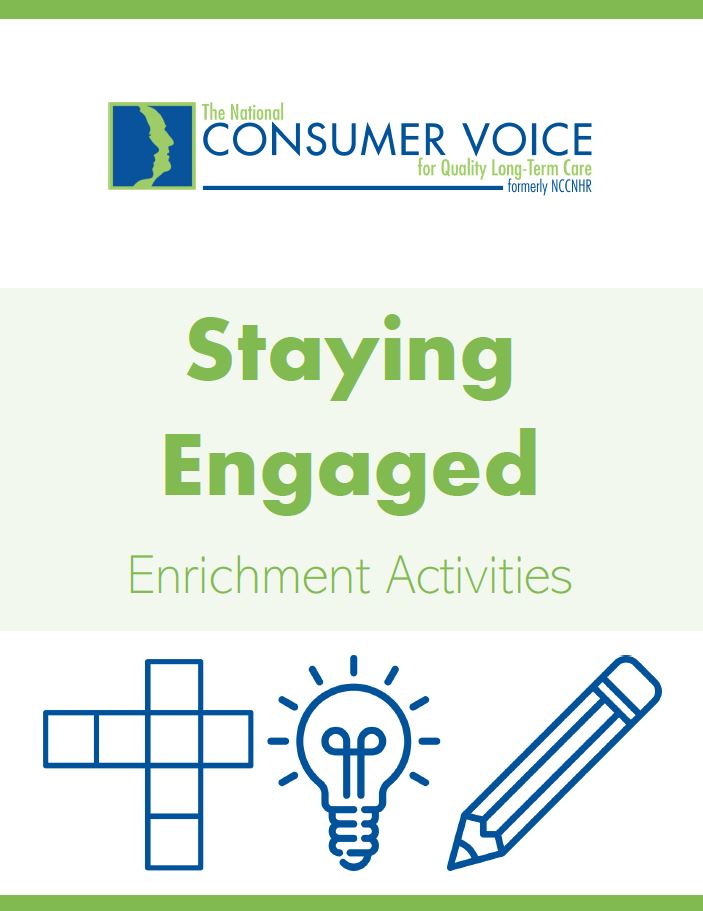 Our new Enrichment Booklet offers residents a variety of activities to keep them entertained and active. This book includes 14 pages of content including puzzles, word searches and crosswords; prompts for residents to write about the connections in their lives; trivia questions, which can be done alone or with others; and more!
Download and print the booklet for free or order hard copies from our online store.

What are you planning for Residents' Rights Month in October?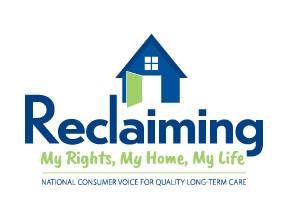 October is Residents' Rights Month, an annual event designated by Consumer Voice to honor residents living in all long-term care facilities and those receiving care in their home or community. It is an opportunity to focus on and celebrate the dignity, respect and rights of every individual receiving long-term services and supports.

The 2021 Residents' Rights Month theme, "Reclaiming My Rights, My Home, My Life," acknowledges the impact of this past year on residents and highlights the need for residents' rights to be recognized, recovered, and reasserted. It emphasizes the recognition of the long-term care facility as the residents' home, and the importance of residents reclaiming their own lives. The theme focuses on raising awareness of federally mandated residents' rights while also underscoring the need for dignity and self-determination of all residents.

Residents' Rights Month may look different than in the past, but there are still ways residents, family members, and facilities can participate in the monthlong celebration of residents' rights. Visit our website for activities, resources, and ways to promote the month.

Share how you are celebrating Residents' Rights Month! Email info@theconsumervoice.org with photos and details about your events and activities.