September 28, 2021
In this Issue:
Only 1% of Long-Term Care Providers Say They Are Currently Fully Staffed, According to Survey

According to a new survey from the American Health Care Association/National Center for Assisted Living, only 1% of nursing homes across the country are currently fully staffed. The survey queried 1,183 nursing home and assisted living providers in September 2021 about workforce challenges. In the survey, 59% of respondents said they're currently experiencing high levesl of staffing shortages, and 99% of nursing homes said they've asked current staff to work overtime or extra shifts. Seventy-eight percent of nursing homes and 61% of assisted living communities are concerned workforce challenges might force them to close.

See the full results of the survey.
Consumer Voice Legislative Update Webinar This Thursday

Join Consumer Voice this Thursday, September 30 at 2:00pm ET for a legislative update. Congress is in session and considering bills that will impact long-term care quality and access to services. Join us for a review of current bills, including the Nursing Home Improvement and Accountability Act and the Essential Caregivers Act; learn about the budget reconciliation process and timeline, and what provisions affecting long-term care are being considered; and discuss strategies for advocacy and outreach to members of Congress.

Door Hangers Featuring Resident Artwork Now Available for Pre-Order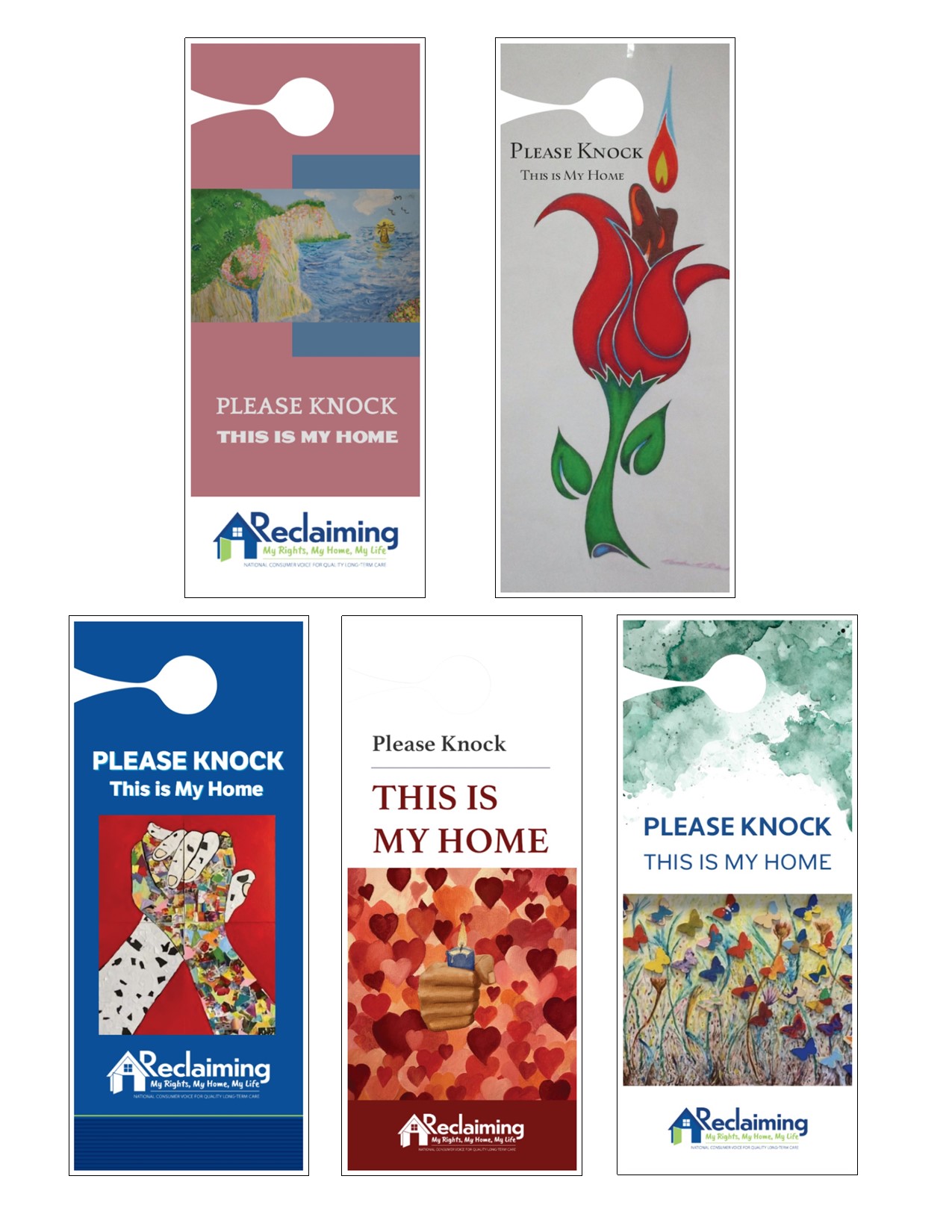 Long-term care consumers from across the country submitted artwork for this year's Resident's Voice Challenge, a part of Residents' Rights Month - Reclaiming My Rights, My Home, My Life - held every October. Thank you to all those who submitted artwork! See Resident's Voice entries on our website.

Several pieces of art were selected to display on door hangers. These door hangers remind anyone who enters a resident's room that this is the resident's home, and the door hangers assert residents' rights.

Door hangers are available in packs of 50 (10 of each design) or 100 (20 of each design). Visit our online store to pre-order.
Report from Center for Medicare Advocacy Provides Update on Temporary Nurse Aides

A new report from the Center for Medicare Advocacy provides more information about temporary nurse aides in nursing homes. On March 20, 2020, at the beginning of the COVID-19 pandemic and as part of a long list of blanket waivers and flexibilities granted to nursing facilities, the Centers for Medicare & Medicaid Services (CMS) waived the requirement that facilities not use individuals as nurse aides for more than four months unless they were trained in a state-approved nurse aide training program of at least 75 hours. On April 8, 2021, CMS updated its guidance maintaining its waiver of training and certification requirements for nurse aide training, allowing facilities to employ individuals beyond four months, even though they have not met the federal training and certification requirements.

In its report, the Center for Medicare Advocacy highlights that many states, following CMS's April 2021 guidance, are moving to convert these temporary workers into permanent aides, without receiving the training that they would ordinarily have required before the pandemic. States are most commonly counting time worked as temporary nurse aides as if it were actual training, and many are requiring few, if any, hours of additional training. In essence, many temporary aides are currently being grandfathered into permanent status as certified nurse aides.

The Center for Medicare Advocacy's report argues that the COVID-19 pandemic should not be an excuse to diminish aide training rules, reducing the quality care that residents receive.

Read the Center for Medicare Advocacy's report.
Beverley Laubert is ACL's New National Ombudsman Program Coordinator

The Administration for Community Living (ACL) has announced Beverley "Bev" Laubert as the new National Ombudsman Program Coordinator in the Office of Long-Term Care Ombudsman Programs. Bev comes to ACL after working 33 years in the Ohio Long-Term Care Ombudsman Program, with 26 of those years as the Ohio State Long-Term Care Ombudsman. Bev also held the position of State Unit on Aging Director in 2018.

She has advocated for individuals using long-term services and supports at the state and national level including providing invited testimony before the National Commission on Quality Long-Term Care and the United States Senate Special Committee on Aging. Her past leadership includes serving two terms as President of the National Association of State Long-Term Care Ombudsman Programs and Chair of the Board of the National Advancing Excellence in Long-Term Care Collaborative. In 2020, she was selected to serve on the National Coronavirus Commission for Safety and Quality in Nursing Homes.

Bev has received several awards including the Ohio Governor's Award for Employee Excellence in 2012; Consumer Voice's Cernoria Johnson Memorial Advocacy Award for national excellence and impact in 2015; a Distinguished Alumnus for Career Achievement by the John Glenn College of Public Affairs at The Ohio State University in 2015; and a Distinguished Alumni by Kent State University this year.
Bev is also a past member of the Consumer Voice Leadership Council.

She will begin her position at ACL on October 25, 2021.
Updated Resources from NCLER on Long-Term Care Consumers, Medicaid and Stimulus Checks

The National Center on Law & Elder Rights (NCLER) updated several of its resources for long-term care consumers regarding Medicaid and stimulus checks. Their fact sheets provide information to nursing home residents and individuals receiving Medicaid home and community-based services (HCBS) about how stimulus payments affect Medicaid eligibility, filing taxes, and where to find more information.

ACL Office of Nutrition and Health Promotion Programs Webinar on Taking Care of Yourself During COVID

Join the Administration for Community Living Office of Nutrition and Health Promotion Programs (ONHPP) for its webinar, "Taking Care of Yourself During COVID" on Wednesday, October 13th at 3:00pm ET. The webinar will cover recognizing the importance of self-care during the COVID-19 pandemic and applying learned techniques to reduce stress.

Register Now