October 19, 2021
In this Issue:
New Issue of The Resident Advocate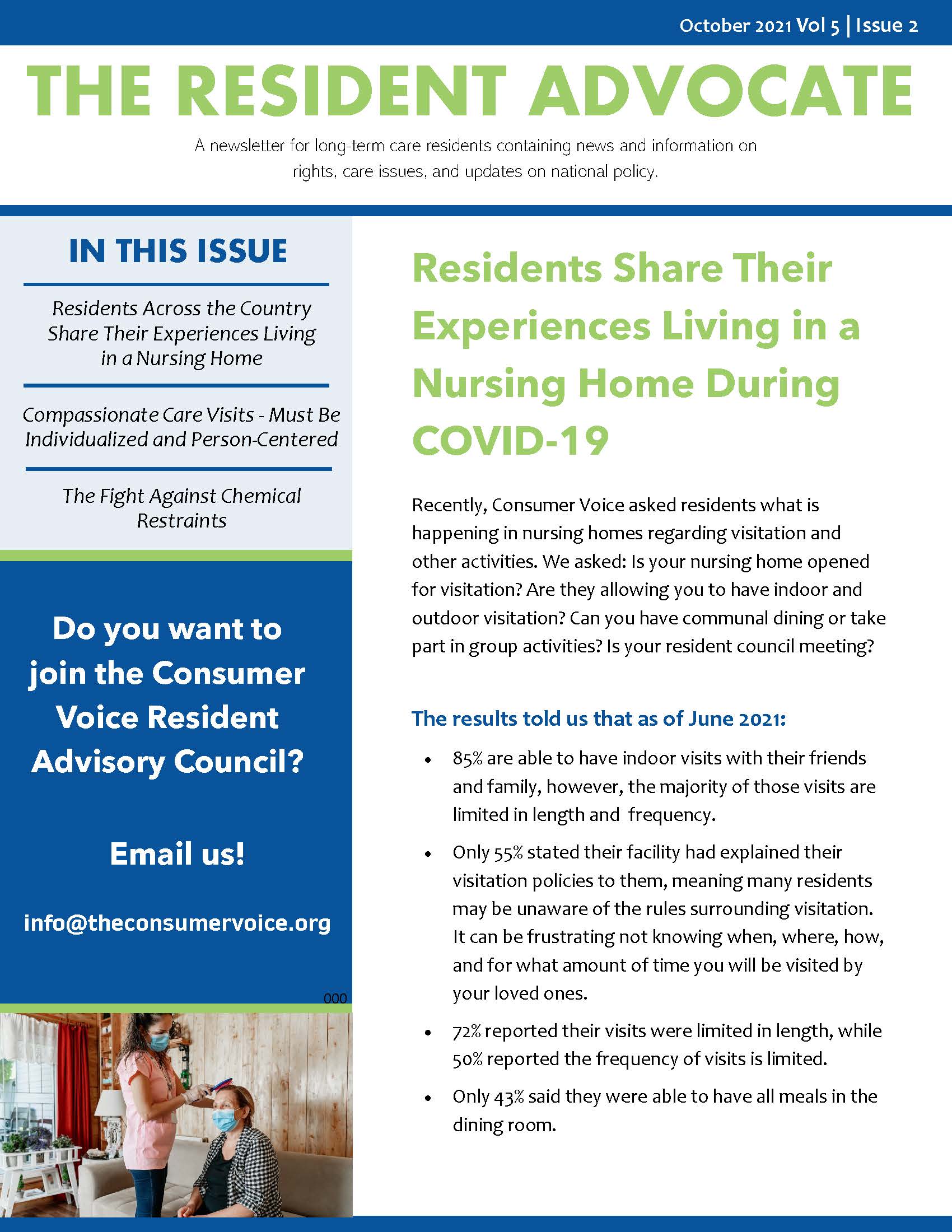 The Resident Advocate, is a newsletter for residents of long-term care facilities. It provides: information on residents' rights and care issues; news and updates on national policy; and self-advocacy tips for obtaining person-centered, quality care. The newsletter is a great resource for residents and families, and it can also be shared among friends, facility staff, Ombudsman programs, and others. Download and print this issue for free.

This issue includes articles on: Resident Experiences During COVID-19; Compassionate Care Visits; and The Fight Against Chemical Restraints.

Read the New Issue

Recording Available from Residents' Rights Discussion on Facebook Live

Watch last week's Facebook Live discussion around residents' rights in nursing homes. We discussed the impact COVID-19 has had on residents and their exercising of rights, and provided an overview of residents' rights that exist in federal law.

Watch the Recording

Consumer Voice and Other Organizations Send Letter to Retain Nursing Home Protections in House Bill

Consumer Voice and 68 other national and state organizations sent a letter to Speaker Pelosi and Minority Leader Kevin McCarthy urging them to retain the critical protections for nursing home residents currently included in the House's budget reconciliation bill. The Budget Reconciliation bill, as passed out of the Budget Committee, currently includes provisions that, if passed, would make a significant difference in the lives of nursing home residents. These provisions address funding that improves the accuracy and reliability of certain skilled nursing facility data; ensures accurate information on Medicare cost reports; provides necessary funds to improve the survey and oversight process; and addresses insufficient staffing by providing a necessary path towards achieving minimum staffing standards. These provisions in the Budget Reconciliation bill are a critical step in the right direction.
Conference Agenda with Session Descriptions and Speakers Now Available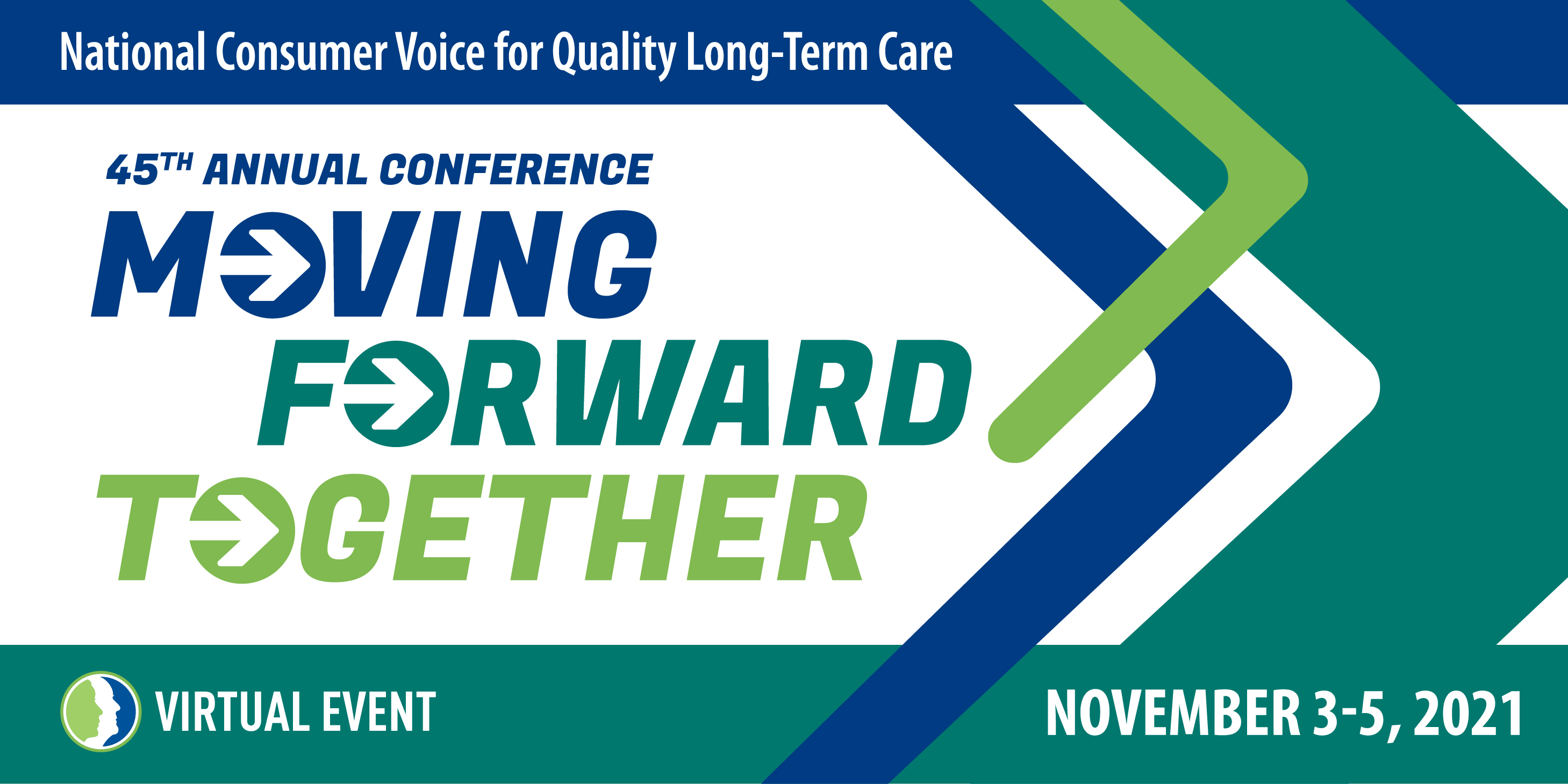 A full agenda for the Consumer Voice Conference featuring session descriptions and speakers is now available. The three days of live programming includes sessions on a wide array of long-term care issues including:
Guardianship and long-term care

Racial disparities and inequities in nursing home care


Family advocacy

The direct care workforce

A conversation with CMS and the CDC

How to speak to the media about long-term care issues

A dialogue with long-term care residents

Transfers and discharges in assisted living facilities

Creating inclusive communities for LGBTQ+ residents

Nursing home surveys

Strengthening the caregiving team


Dementia Beyond Drugs with Dr. Al Power

...and much more!
Plus, multiple opportunities to connect with advocates from around the country, and access to all session recordings and materials for 30 days after the event.
Residents Respond Creatively to Residents' Rights Month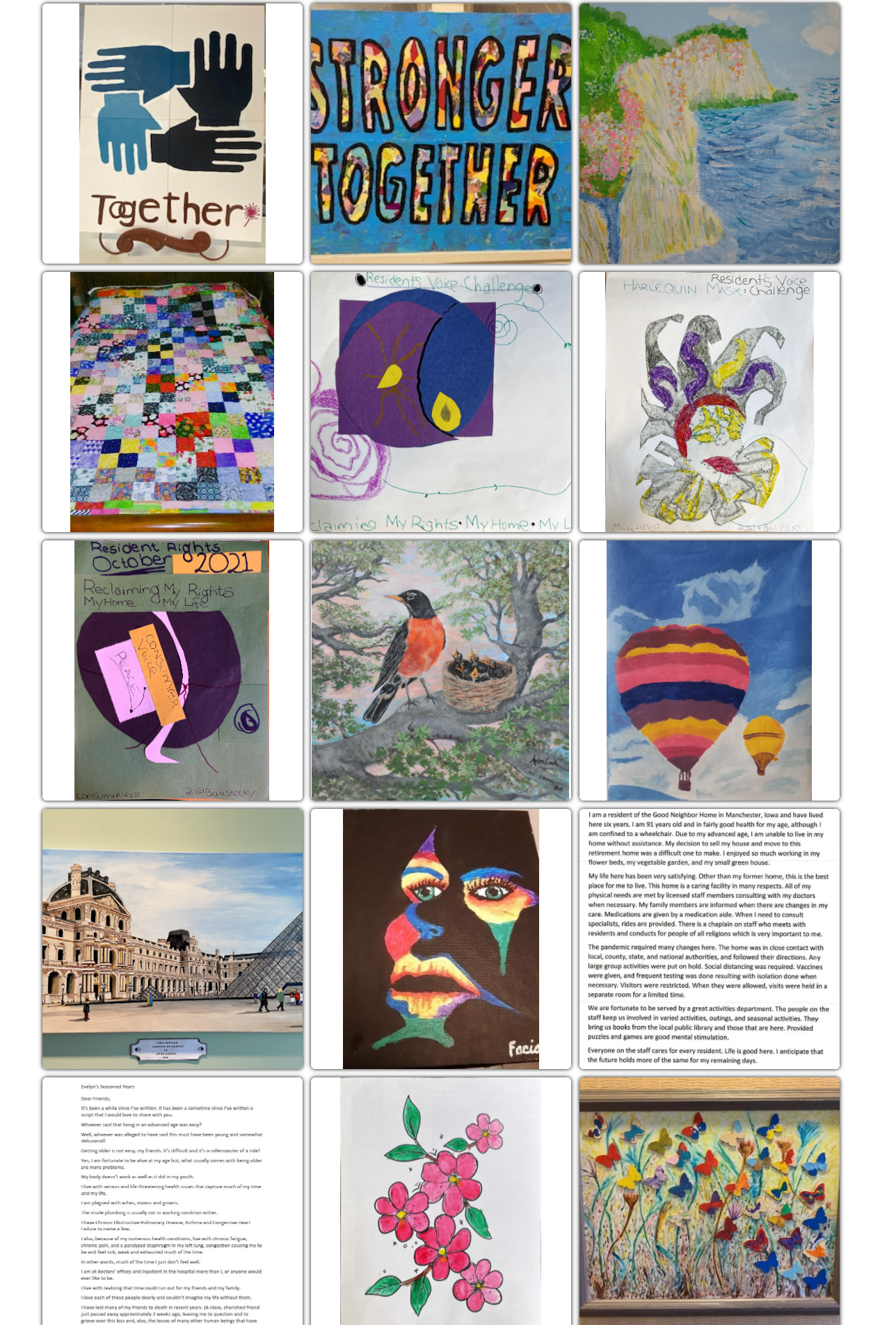 Residents of long-term care facilities were invited to reflect on this year's Residents' Rights Month (RRM) theme, "Reclaiming My Rights, My Home, My Life." We received fantastic entries from across the country including essays, poems, videos, and artwork. Visit our website to see the many creative and moving ways residents responded to this year's theme.
This month, residents' rights are being celebrated nationwide - Mayors and Governors have proclaimed October Residents' Rights Month; RRM has been covered in local media with letters to the editor and TV segments; and residents have been participating in a variety of RRM activities. Visit our website to see all of the Residents' Rights Month happenings.

Justice in Aging Toolkit for Fighting Nursing Home Evictions

Justice in Aging has created a toolkit of resources to help residents and advocates fight back against improper evictions from nursing homes. To educate both residents and professionals, the toolkit includes write-ups on how to identify and challenge eight common evictions. Also, specifically for attorneys and other advocates, the toolkit provides template language for use in eviction defense legal briefs.