What to Know When Making Holiday Visits Based on the Updated CMS Visitation Guidance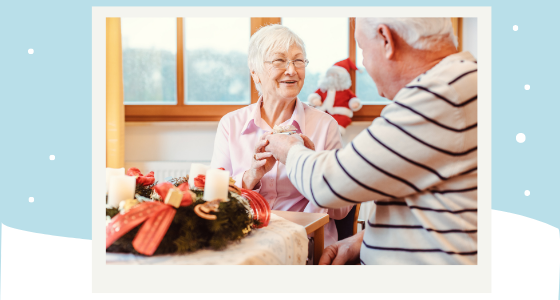 During the holiday season many residents in long-term care facilities eagerly await a visit from an out-of-town friend or family member, or a special time with a regular visitor. Visitors should plan ahead to make these visits rewarding. Below is a summary of key points in the updated visitation guidance, suggestions to consider when visiting a long-term care facility, and additional information to help families as they determine how best to include their loved ones in their holiday plans.
On November 12, the Centers for Medicare & Medicaid Services (CMS) updated their Nursing Home Visitation Guidance. Due to high rates of vaccination among residents, the new vaccine requirement for staff, and a reduction in the number of new COVID-19 cases each week, visitation is now allowed at all times for all residents, including indoor visitation. All visitors must continue to adhere to infection prevention practices.
Main Takeaways from the Guidance
Facilities must allow indoor visitation at all times for all residents.

Facilities can no longer limit frequency and length of visits, number of visitors, or require advanced scheduling of visits.

Visits should be conducted in a way that adheres to the core principles of COVID-19 infection prevention and does not increase risks to other residents.

Vaccinated and unvaccinated residents can have close contact, including touch. Visitors should be made aware of the risks of physical contact with unvaccinated residents before the visit.

Communal activities and dining can occur while adhering to core principals of COVID-19 infection prevention. The safest approach is for everyone, regardless of vaccination status to wear a mask while in communal areas.

While CMS strongly encourages vaccinations, visitors, Ombudsman program representatives, protection and advocacy (P&A) representatives, and surveyors are not required to be vaccinated.

Visitors should be screened upon entry. Any visitor who is positive for COVID-19, has symptoms of COVID-19, or meets the criteria for quarantine should not enter facilities.
What does this mean for the Ombudsman program?
Nursing homes must provide long-term care Ombudsman program representatives and P&A with immediate access to any resident.

If a resident is on transmission-based precaution or quarantine, or unvaccinated in a county with a high level of community transmission, the resident and Ombudsman or P&A representative should be made aware of the risk of visiting and the visit should take place in the resident's room.

Facilities must allow alternative communication with the Ombudsman program if the resident does not want an in-person meeting.

Facilities must comply with federal disability rights laws.
Resident Outings
Residents are permitted to leave the facility when they choose. They should be reminded to follow all infection prevention practices when they leave the facility.

When residents return, they should be screened for signs or symptoms of COVID-19.

If the resident or a family member reports a possible close contact to an individual with COVID19, the resident should be tested regardless of vaccination status and placed on quarantine if the resident is not fully vaccinated.

If the resident develops signs or symptoms of COVID-19 after returning to the facility, they should be tested and placed on Transmission Based Precautions, regardless of vaccination status. Facilities may test unvaccinated residents without signs or symptoms of COVID-19 if they leave the facility frequently or for prolonged time (over 24 hours).

Facilities may consider quarantining unvaccinated residents who leave the facility, if it's unclear if they, or the people around them followed infection prevention practices.

Residents should be monitored daily upon their return.

Residents who leave for 24 hours or longer should be treated as new or readmissions as recommended by the CDC.
Throughout the Holidays
Call ahead to arrange your visit at a time that is best for the resident.

Many facilities plan special holiday events or activities. Consider planning a visit at those times to share the event with residents.

Be attentive to the resident's appearance and demeanor. Does he or she appear clean, appropriately dressed, and well cared for? Ask about the quality of food and activities.

Families and residents should continue to follow guidelines for visitation and adhere to the core principles of infection prevention. This includes hand hygiene, wearing a face covering, and not entering the facility if you have symptoms of COVID-19.

Staff should use extra caution during the holidays and follow CDC recommendations for their own gatherings with families and friends outside of work to protect the vulnerable residents they care for.
Gift Giving and Gifts for Residents
This resource from Consumer Voice includes ideas for assisting residents in giving gifts and a list of gift ideas for residents.
For more information and resources visit the NORC COVID-19 webpage. If your program has materials they would like to share, please email ombudcenter@theconsumervoice.org.
Read archived issues of NORC Notes here. If you have a question, are not able to find a resource, or want to share training materials or program practices, please email ombudcenter@theconsumervoice.org.