February 8, 2022
In this Issue:
New Fact Sheet, Video, and Podcast Episode on Preventing Neglect in Nursing Homes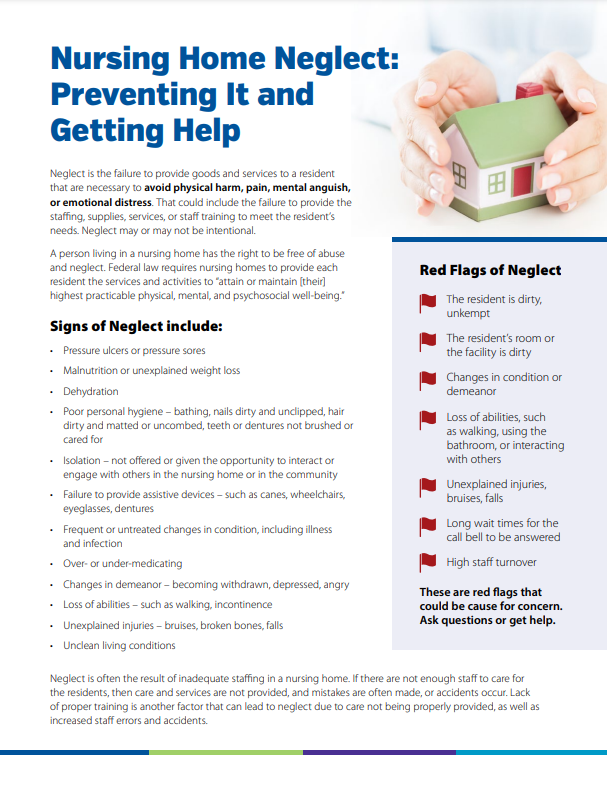 A new fact sheet is available from Consumer Voice and the National Center on Elder Abuse on preventing neglect in nursing homes. Neglect is the failure to provide goods and services to a resident
that are necessary to avoid physical harm, pain, mental anguish, or emotional distress. That could include the failure to provide the staffing, supplies, services, or staff training to meet the resident's needs. Neglect may or may not be intentional. The fact sheet provides examples of signs of neglect and red flags that could be cause for concern. It also provides information on how to take action and report neglect.
Get the fact sheet.
Watch and share the accompanying video.
A new episode of the Pursuing Quality Long-Term Care podcast is now available on the topic of neglect. Dr. Laura Mosqueda, Professor of Family Medicine & Geriatrics at the University of Southern California, discusses the long-standing issue of neglect in nursing homes and what family members and advocates can do about it.

Listen to the episode on Apple Podcasts, SoundCloud, and our website.

Booster Shot Data Now Available on Care Compare Website

The Centers for Medicare & Medicaid Services (CMS) is now posting data on COVID-19 vaccine booster shots administered to nursing home residents and staff on the Medicare.gov Care Compare website. The data will show resident and staff booster rates at the facility level and will include national and state averages.
CMS Memo Regarding State Obligations to Survey to the Entirety of Medicare and Medicaid Health and Safety Requirements under the Federal/State Agreement

On February 9, 2022, the Centers for Medicare and Medicaid Services (CMS), released a memo to State Survey Agency Directors regarding the States' obligations under the Federal/State Agreement that specifies functions that must be performed by the State in certifying the compliance or non-compliance of Medicare and Medicaid providers with all regulatory requirements.
Specifically, the State is required to survey in a time and manner as directed by the Secretary, and to apply the appropriate Requirements for Participation in accordance with CMS regulations and instructions.

CMS notes that it has consistently worked with States to address State Performance and/or resource issues; and cautions that a state that unilaterally acts to reduce or suspend survey and certification activities in a manner inconsistent with the Act, regulations, and Secretary's direction "does not support their full budgetary allocation." As a result, CMS may, among other things, reduce the amount allocated to States that refuse to survey and certify compliance with applicable regulations.
The memo directs individuals with quality of care complaints related to a Medicare or Medicaid regulation that the state is not surveying for to contact their CMS regional location directly.

Read the full memo.
Reminder: Questionnaire on Abuse Prevention Outreach for State Ombudsmen and Representatives

In an effort to educate and empower residents, family members, and staff with abuse prevention information in long-term care facilities, the National Long-Term Care Ombudsman Resource Center (NORC) is working with the National Center on Elder Abuse (NCEA) to learn more about Ombudsman programs' familiarity with, and utilization of, abuse prevention resources and outreach methods. State Ombudsmen and Ombudsman Representatives are requested to complete this questionnaire regarding abuse prevention outreach and education resources. The questionnaire should take no longer than 10 minutes to complete. Responses will provide NCEA and NORC with invaluable information in their work to strengthen resources and information on identifying and preventing all forms of elder abuse and neglect in long-term care settings.

Please complete this questionnaire by COB today Tuesday, February 15.

Brief on How States are Weakening Nurse Aide Training Standards

Justice in Aging and the Center for Medicare Advocacy have created a new issue brief, "States are Weakening Training Standards for Nursing Facility Aides, With No Response by CMS." Federal nurse aide training standards in nursing facilities have been largely waived during the COVID-19 emergency. When the emergency declarations end, however, all "temporary nurse aides" are required by federal law to receive training and pass tests in order to be certified as permanent nurse aides. The new issue brief describes how it is in the interests of both nurse aides and nursing facility residents that aides receive all required training. But the nursing facility lobby has argued for "grandfathering" of temporary nurse aides into permanent certification, and the federal government unfortunately has moved in that direction.

The brief argues that CMS should require the comprehensive training required by the relevant regulations, and states should withdraw their procedures that have allowed work to be retroactively and perfunctorily classified as "training." In practice, this will require CMS to assert its oversight authority on this issue, rather than looking away.