March 8, 2022
In this Issue:
Thank President Biden for Introducing Nursing Home Reforms

Last week, the Biden Administration announced it would be implementing a variety of nursing home reforms, including the creation of a minimum staffing standard in nursing homes, accountability for poor performing nursing homes, increased transparency around ownership and finances, and support for direct care staff. These critical reforms will address many of the long-standing problems that have plagued nursing homes for decades. More than 200,000 residents and staff died from COVID-19, and tens of thousands more suffered from the effects of isolation and neglect.

Advocates, residents, and families have long called for these actions to address the inadequate conditions that many residents experience. This announcement will increase positive health outcomes for current and future nursing home residents. Importantly, it will save lives.

The Biden plan promises additional important reforms such as enhanced enforcement and penalties, new efforts to reduce the misuse of antipsychotic medications, and improved pandemic and emergency preparedness in facilities. The Administration will take steps to implement reforms directly and calls on Congress to enact legislation to support these goals.

Join us in thanking President Biden for standing with nursing home residents and introducing these monumental nursing home reforms.
New Consumer Voice Report on Staffing in Nursing Homes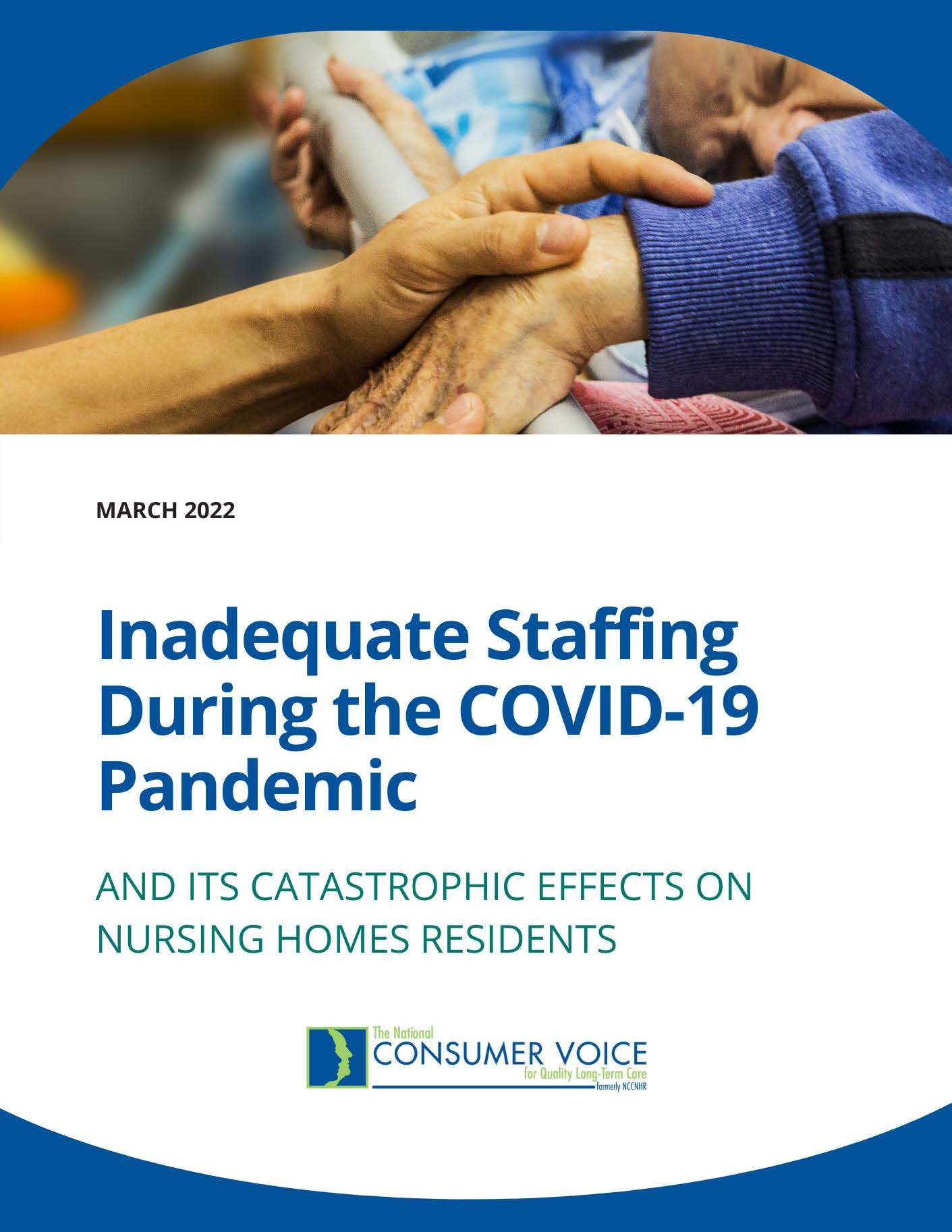 For years, understaffing had plagued nursing homes. Residents have suffered due to insufficient and sporadic care. The COVID-19 pandemic laid bare for the country the result of years of not investing in resident care. For residents, families, and advocates the catastrophic events of the COVID-19 pandemic were foreseeable. While residents died from COVID-19, countless others suffered from isolation and neglect due to understaffing.

Consumer Voice's new report looks at federal data regarding nursing home residents and documents the true price of inadequate staffing.

The report found that during the pandemic:

The number of residents experiencing pressure ulcers rose 31%

The number of residents experiencing significant weight loss rose 49%

The number of residents reporting feeling down, depressed, or hopeless rose 40%

The increase in the rate of residents receiving antipsychotic medications jumped 77.5%, while the increase in the rate of residents being diagnosed with schizophrenia rose 54%

Materials Available from March Forth Together Kickoff Webinar

The recording and materials are available from last Friday's webinar - March Forth Together. Will Harris, Senior Advisor, Office of the Administrator, Centers for Medicare & Medicaid Services, presented an overview of the new proposals announced by the Biden Administration. Consumer Voice's new report, Inadequate Staffing During the COVID-19 Pandemic and Its Catastrophic Effects on Nursing Home Residents, was also discussed. Watch the webinar for details on the events we're planning for March Forth Together including ways you can make your voice heard and how to take action to help ensure meaningful changes in the lives of nursing home residents.

Get the webinar materials.
CMS National Nursing Home Stakeholder Call Thursday

The Centers for Medicare & Medicaid Services is hosting its next National Nursing Home Stakeholder Call on Thursday, March 10th at 3:00pm ET. During the webinar, CMS will discuss the newly announced nursing home plan and how they will implement it.

Register Now

Survey of CNAs Reveals Biggest Challenges to CNA Jobs and Impact of Staffing Shortage

The National Association of Health Care Assistants (NAHCA) released the results of a survey on the challenges of Certified Nursing Assistant (CNA) jobs and the impact of the current staffing shortage. Key findings included:

Nearly 84 percent of respondents said it would take better wages and benefits to be hired back by their nursing homes, while just under half said that better training/opportunities for career advancement would lure them back.

Poor wages and benefits were cited as the primary reasons why CNAs have left, or are considering leaving, their jobs.

The CNA staffing shortage is the most pressing challenge for CNAs right now, according to more than half of the respondents.

Burnout/exhaustion and lack of respect from leadership are the second and third biggest challenges, respectively, for CNAs.

Respondents reported the following data about the number of patients (per one CNA) they must care for during their shifts over the past four weeks:

35% who worked either first, second, or third shift care for between 15 to 20 patients/residents

18% of those who worked one of three shifts care for 25 or more patients/residents

36% of those who work either first or second shifts care for 15 to 20 patients/residents

32% of those working either first or second shifts care for 10 to 15 patients/residents

34% of those working third shift care for 15 to 20 patients/residents

33% of those working third shift care for 25 or more patients/residents