March 2022 | Volume 8, Issue 3

In this issue:
Nursing Home Reforms
On February 28, 2022, the Biden-Harris Administration announced it would be implementing new nursing home reforms aimed at improving the quality of care for nursing home residents. These reforms include a minimum staffing standard in nursing homes, accountability for poor performing nursing homes, increased transparency around ownership and finances, and support for direct care staff.
If implemented, these reforms would be the most significant increase in protections for nursing home residents in decades. Some of these provisions will be implemented by the Centers for Medicare and Medicaid Services (CMS), and others will require Congressional action.
CMS Updates

Updated visitation guidance from CMS includes:
Residents, regardless of vaccination status, can choose not to wear masks or face coverings when other residents are not present and have close contact (including touch) with their visitors.

Visitors should wear masks or face coverings and physically distance when around other residents or healthcare personnel, regardless of their vaccination status.

The guidance replaced "fully vaccinated" with the CDC's term "up-to-date" with all recommended COVID-19 vaccine does, which include booster shots.

Visitation is still allowed for all visitors at all times.

Updated testing guidance from CMS includes:
Regardless of vaccination status, long-term care residents and staff with COVID-19 symptoms or who have had close contact with someone in the facility who tested positive, must be tested immediately.

Facility staff who are not up-to-date on their vaccines should be tested according to community transmission guidelines.

The guidance replaced "fully vaccinated" with the CDC's term "up-to-date" with all recommended COVID-19 vaccine does, which include booster shots.

NEW! Training and Webinar Materials on Ombudsman Program Emergency Preparedness and Response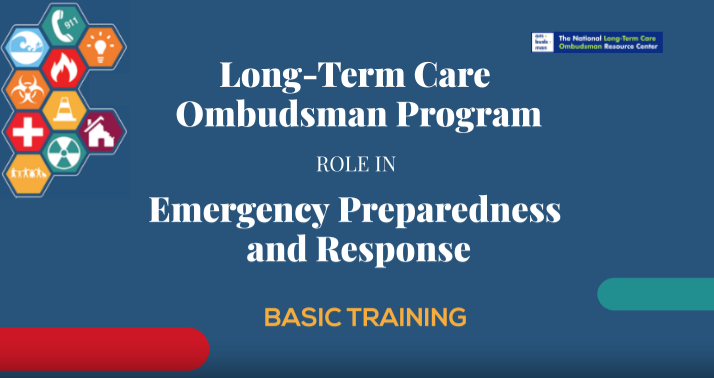 NORC shared a new training resource for basic Emergency Preparedness and guidance for the Ombudsman program's role before, during, and after emergencies. Ombudsman programs may customize this new resource with specific state and/or local information and use it during initial certification training or annual in-service (continuing education) training. NORC also hosted a webinar where participants learned how Ombudsman programs may better serve residents of long-term care facilities by being prepared for emergencies and how to best respond to them. Beverley Laubert, National Ombudsman Program Coordinator, Administration for Community Living, shared the federal perspective regarding the role of Ombudsman programs in emergency preparedness and response and two states discussed recent disasters and their practices before and after the disasters. View the training materials and listen to the webinar recording.
NEW! Initial Certification Training Curriculum for Long-Term Care Ombudsman Programs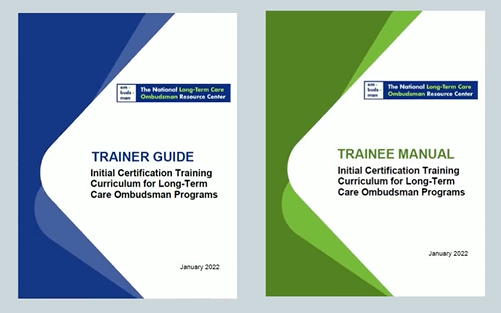 The Initial Certification Training Curriculum for Long-Term Care Ombudsman Programs is a basic curriculum for initial certification training based on the requirements included in the Administration for Community Living (ACL) Long-Term Care Ombudsman Program Training Standards. In developing the curriculum, the National Long-Term Care Ombudsman Resource Center (NORC) worked with subject matter experts and Ombudsmen and Ombudsman program representatives (paid and volunteer). Watch a 2-minute video overview of the curriculum and share this flyer with your programs. Watch a webinar recording and view the PowerPoint slides to learn more about the development process and materials.

NEW! Technical Assistance (TA) Talks Materials on Resident Councils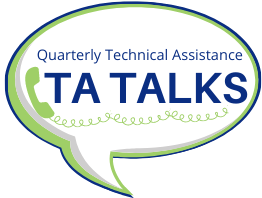 To increase direct access to technical assistance (TA) and peer support, NORC hosts quarterly live technical assistance dialogues. The March 30 TA Talk discussed Resident Councils, view the recording and materials here. The next TA Talk will be June 29, 2022, and we will discuss the Ombudsman program role in investigating allegations of abuse, neglect, and exploitation. Have questions about the Ombudsman program investigating complaints involving abuse, neglect, and exploitation or examples of training, consumer education, or successful advocacy? Email NORC at ombudcenter@theconsumervoice.org.

UPDATED! National Ombudsman Reporting System (NORS) Training Materials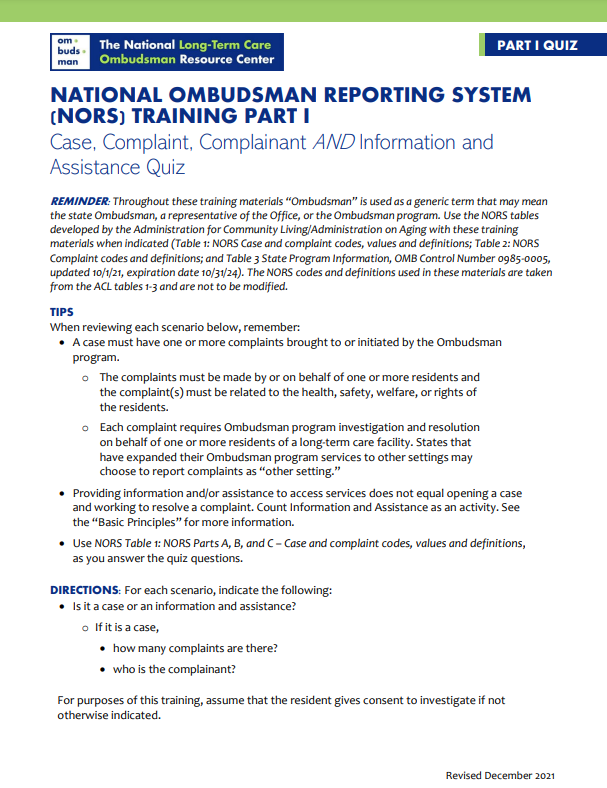 Ombudsman programs report their activities such as facility visits, complaints received and investigated, information and assistance provided, and community education to the Administration for Community Living (ACL)/Administration on Aging (AoA) to be summarized in the National Ombudsman Reporting System (NORS). NORC updated the four-part NORS training materials in December 2021 to reflect revisions in ACL's NORS tables. Ombudsman programs are encouraged to use these materials during initial certification training and as continuing education training to ensure NORS consistency. The materials with UPDATED next to them on the NORS Training page were revised, please use these versions for training as the links have changed.
UPDATED! Infographic for Long-Term Care Ombudsman Program Promotion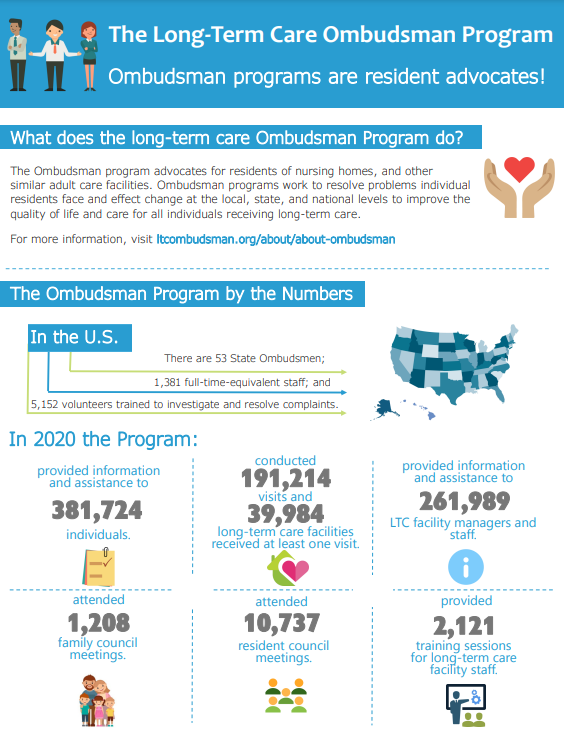 This Ombudsman program infographic has been updated to include 2020 NORS data. The infographic provides a brief overview of the work Ombudsman programs do and the impact they have around the nation. This infographic can be used for volunteer recruitment or program promotion.

TA Hot Topic: Emergency Preparedness
Are Ombudsman programs first responders before, during, and after emergencies?

First responders are fire fighters, law enforcement, emergency medical technicians, and emergency management authorities. These professionals respond first to emergencies and disasters and once the area is deemed safe and no harm or threats exist, then Ombudsman program representatives may visit residents of long-term care facilities. Guidance and training materials specifically for Ombudsman programs are available through the National Ombudsman Resource Center (NORC). Ombudsman programs are encouraged to train representatives at least annually on their roles. NORC has provided instructions for using the new basic training PowerPoint and video for initial and/or continuing education for Ombudsman programs.
Additionally, as an Ombudsman program representative it is important to have a general knowledge of facilities' emergency plans so you are best prepared to assist residents and family members. The work of a representative, to be the resident's advocate, is the same before, during, and after an emergency. However, the work may be a little different because of a pending or real emergency. Examples of your work may include: keeping track of residents relocated to another facility or shelter, visiting with residents in locations other than their facility, helping families reconnect with residents, and working on individual cases with resident/family permission. Resident casework may be individualized (lost their specialized wheelchair) or systemic (residents were billed by two providers for the same time period). Examples of programs' advocacy on behalf of residents impacted by emergencies provide good insight for additional training resources and for a better understanding of your role.
National Ombudsman Reporting System (NORS) Corner
NORS 2020 data tables are now available on the NORC website. These data tables reflect the first NORS submissions from states in the new Older Americans Act Performance System (OAAPS) for federal fiscal year 2020. Please note, as ACL continues to review NORS reports, improvements were made to the data tables previously posted. It is anticipated that more data will be added as system updates correct for changes that occurred between the 2019 and 2020 NORS reporting years. Continue to check the NORC website for the most updated data tables.

Connecticut State Ombudsman, Mairead Painter, Quoted Discussing Essential Caregivers
Hawaii State Ombudsman, John McDermott, Interviewed on Expansion of the Hawaii Ombudsman Program
Pennsylvania State Ombudsman, Margaret Barajas, Discusses the Impact of Biden's Nursing Home Reforms
District of Columbia State Ombudsman, Mark Miller, Quoted Discussing the Significance of Biden's Nursing Home Reforms
South Carolina Ombudsman Program Coordinates with Other Agencies to Ensure Continuity of Care for Vulnerable Adult Residents After an Assisted Living Facility Owner is Charged with Neglecting and Exploiting Residents
Maine State Ombudsman, Brenda Gallant, Cultivates a New Advisory Council for Nursing Home and Assisted Living Facility Direct-Care Staff
Georgia State Ombudsman, Melanie McNeil, Participated in a Radio Interview on the Impact of COVID-19 in Nursing Homes
Erin Pettegrew, Ohio Deputy Long-Term Care Ombudsman, Quoted on How Systemic Failures in Nursing Homes Led to Outbreaks
Oregon State Ombudsman, Fred Steele, Quoted on the Effects of Omicron on Long-Term Care Facilities
Volunteer Management: National Volunteer Week April 17-23, 2022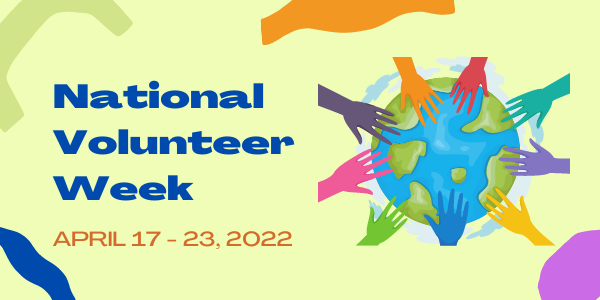 During the week of April 17th, organizations and companies across the country will be celebrating the impact of volunteers as part of National Volunteer Week (NVW). This year's theme is Shining a Light on the People and Causes That Inspire Us to Serve.
We encourage Ombudsman programs to thank your volunteers and recognize their work publicly by sending NORC brief messages of appreciation for their dedicated advocacy (e.g., examples of their advocacy, years of service, photos). We will post your message on our website and highlight the submissions on social media. Email your submissions to ombudcenter@theconsumervoice.org.
Questionnaire
NORC would like to hear from all Ombudsman volunteers regarding why you choose to spend your time with the Ombudsman program and why you remain committed to this work. If you haven't completed the questionnaire, please do so. The deadline is Wednesday, April 13.
Register for a Webinar on Recognizing the Importance of Volunteers
Thursday, April 21, 2022 3:00 to 4:30pm ET | Register

Join us to learn about volunteer representative recruitment and retention. Volunteer representatives will discuss why they stay with the program and Ombudsman programs will share state and local level examples of successful recruitment and retention activities. This information may assist programs in shaping their recruitment messages. NORC will review highlights from the Process Evaluation and Special Studies Related to the Long-Term Care Ombudsman Program about working with volunteers (NORC Chicago Research Brief).
Results from the Administration for Community Living (ACL) Office of Performance and Evaluation
During the Administration for Community Living webinar, The Role and Value of Volunteers in Home- and Community-Based and Long-Term Care Programs for Older Adults (March 15, 2022), results from the recent study about ACL-funded programs work with volunteers were discussed. The report showed that about 15.9% of the total certified ombudsmen annual labor for long-term care ombudsman programs, or roughly $14 million in total estimated annual value, came from volunteers.
For more details on ACL's study on the use of volunteers, see the final study report, a report documenting examples of effective volunteer practices, stories from volunteers that highlight their value to ACL programming, and a short infographic highlighting key findings.
Quick Tips: Communication Skills - Tips for Marketing, Communication, and Program Promotion
Months of limited visitation and isolation from the outside world means residents need to know about the Ombudsman program more than ever.
Marketing can mean a variety of things, but in general, it encompasses advertising, promotions, and public relations. For Long-Term Care Ombudsman programs, marketing can be a way to communicate with long-term care residents and their families about the program and its services. Ombudsman programs can also use marketing to raise awareness around certain issues like residents' rights, elder abuse, and more.
Visit the link below for ideas of promotional materials and items that increase awareness of the Ombudsman program.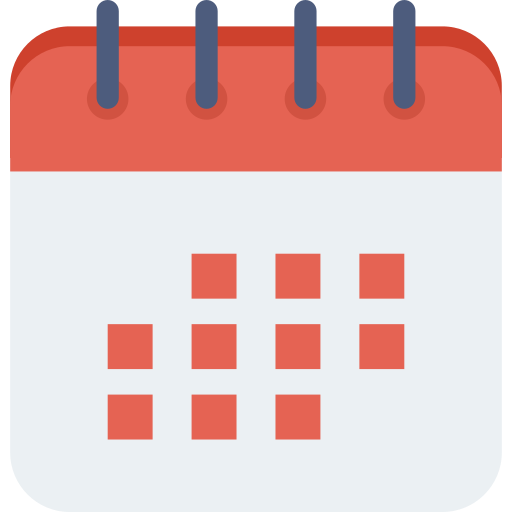 April 17-23, 2022: Volunteer Appreciation Week Learn more »
April 21, 2022: Recognizing the Importance of Volunteers Webinar | 3:00 - 4:30 pm ET Register»
May 2022: Older Americans Month Learn more »
June 15, 2022: World Elder Abuse Awareness Day (WEAAD) - Learn more »
Email NORC about your WEAAD Events »
June 22, 2022: Save the Date - Long-Term Care Ombudsman Program and Legal Services Collaboration - Enhancing Resident Access to Legal Assistance | 3:00 - 4:30 pm ET
June 29, 2022: Save the Date - Quarterly Technical Assistance (TA) Talk – Ombudsman Program Role in Investigating Allegations of Abuse, Neglect, and Exploitation | 3:00 - 4:00 pm ET
October 2022: Save the Date - Residents' Rights Month
Read past issues of the Ombudsman Outlook on the NORC website. If you did not receive this email directly and would like to sign-up to receive NORC emails please fill out the form on our website. If you would like to receive The Voice (the Consumer Voice weekly e-newsletter) automatically sign-up on the Consumer Voice website. If you have any questions, challenges, or article suggestions related to long-term care Ombudsman advocacy and program management, please let us know.