May 17, 2022
In this Issue:
Webinar - Responding to CMS's Request for Information on Staffing: Resources for Advocates

On April 15, 2022, the Centers for Medicare & Medicaid Services (CMS) issued a Request for Information (RFI) regarding the implementation of a minimum staffing standard in nursing homes. The RFI contains seventeen questions, with some questions having several parts. CMS has promised to propose a minimum staffing standard within one year, and the RFI asks the public to comment on various aspects of a proposed minimum.

Consumer Voice strongly supports the implementation of a minimum staffing standard. For decades, advocates have fought to have CMS create a standard that all facilities must meet. Inadequate staffing is the primary driver of poor outcomes in nursing homes. A minimum standard will be a significant step towards making sure all nursing home residents are receiving high quality care.

To ensure that CMS receives significant support for a minimum standard, join Consumer Voice, along with representatives from Justice in Aging, Center for Medicare Advocacy, Long Term Care Community Coalition, and California Advocates for Nursing Home Reform, for a webinar on May 25, 2022 at 3:00 pm EST where attendees will be provided with model comments, tips on how to respond to the RFI, and a general overview of the RFI questions.

This webinar will be geared to organizational advocates at the national, state, and local levels. However, all are invited to attend. Consumer Voice will be issuing separate tools and resources to help individuals submit abbreviated responses in support of the minimum staffing standard. Responses to the RFI are due June 10, 2022.

New Podcast Episode: Nursing Home Residents Discuss Staffing

The most significant nursing home reforms in decades were announced in February 2022. The reforms include the creation of a minimum staffing standard in nursing homes, accountability for poor performing nursing homes, increased transparency around ownership and finances, and support for direct care staff. These reforms are critical and urgently needed to address the inadequate conditions many residents face in their day-to-day lives.

In the newest episode of the Pursuing Quality Long-Term Care podcast, we continue our conversation with long-term care residents about the importance of these reforms. We speak with two residents to discuss the problems they face in their day-to-day lives from inadequate staffing, the ways nursing home ownership has impacted their lives throughout the pandemic, as well as what can be done to improve their lives in long-term care.

Subscribe to the Pursuing Quality Long-Term Care podcast in Apple Podcasts. Don't have an iPhone? Listen on SoundCloud, Facebook, or our website.
New Resource: "Difficult" is Not a Diagnosis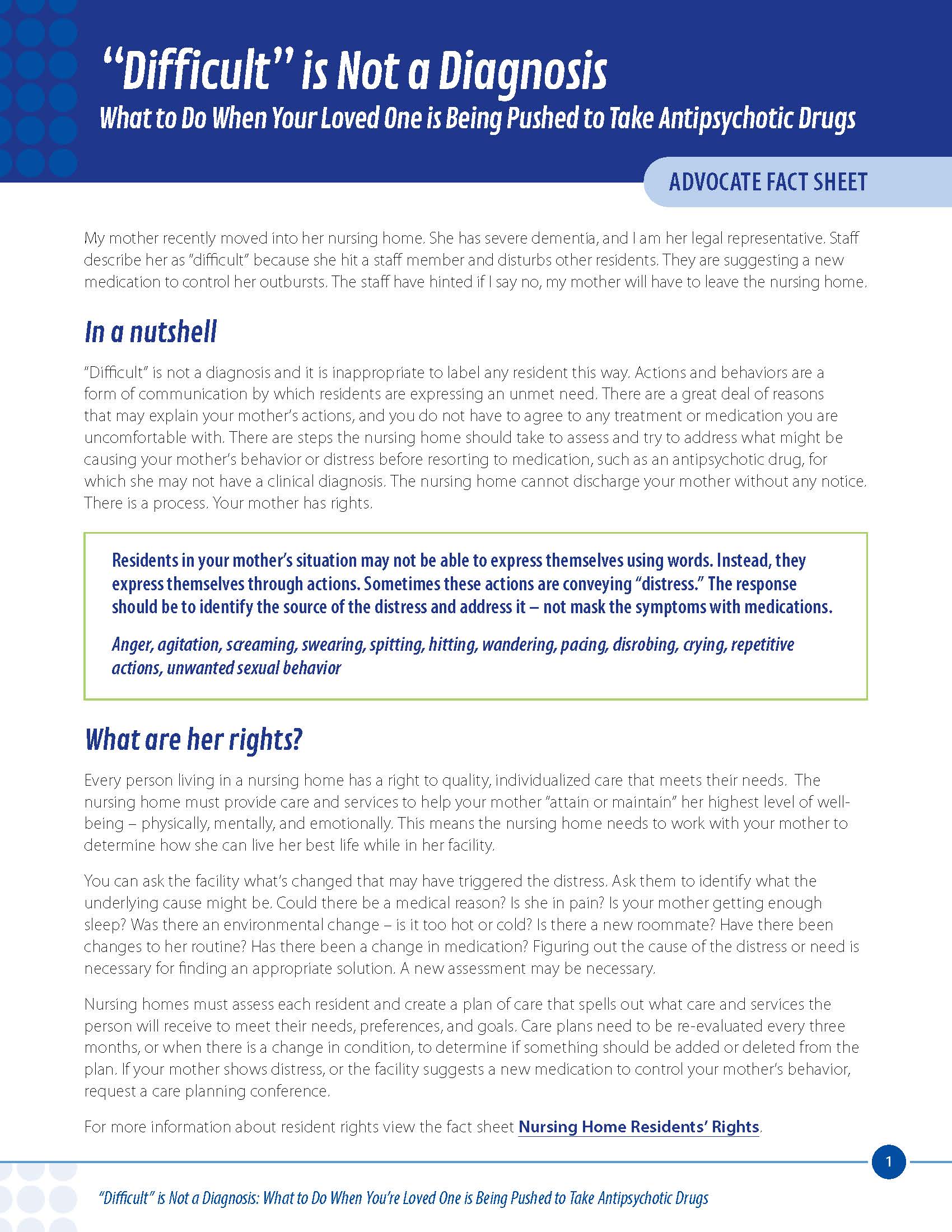 A new fact sheet, "Difficult" is Not a Diagnosis: What to Do When You're Loved One is Being Pushed to Take Antipsychotic Drugs, is now available for advocates and family members. "Difficult" is not a diagnosis, and it is inappropriate to label any resident this way. Actions and behaviors are a form of communication by which residents are expressing an unmet need. There are steps the nursing home should take to assess and try to address what might be causing "difficult" behavior or distress before resorting to medication, such as an antipsychotic drug, for which the resident may not have a clinical diagnosis.
ACL Seeking Comments on Older Americans Act Programs, Including Long-Term Care Ombudsman Program

The Administration for Community Living (ACL) is seeking information and recommendations for changes, additions, or deletions to regulations for Older Americans Act programs, including the Long-Term Care Ombudsman Program. The Request for Information (RFI) addresses supportive, nutrition, evidence-based disease prevention and health promotion, caregiver, legal, long-term care ombudsman, and other services provided by states, tribes and tribal organizations, area agencies on aging, and local service providers under the Act.

Specifically, ACL wants to hear about: (1) Challenges faced by older adults, elders, and family caregivers in receiving services under the Act; and (2) challenges faced by states, territories, tribes and tribal organizations, area agencies on aging and service providers in delivering services under the Act. They are also looking for feedback on how OAA programs can advance equity.

Comments are due June 6, 2022. Electronic comments should be submitted to: Administration on Aging, OAAregulations@acl.hhs.gov; include "OAA Regulations" in the subject line of the message.