June 7, 2022
In this Issue:
New Issue of The Resident Advocate Newsletter Available

The Spring 2022 issue of The Resident Advocate, a newsletter for residents of long-term care facilities, is now available. This newsletter provides information on residents' rights and care issues; news and updates on national policy; and self-advocacy tips for obtaining person-centered, quality care.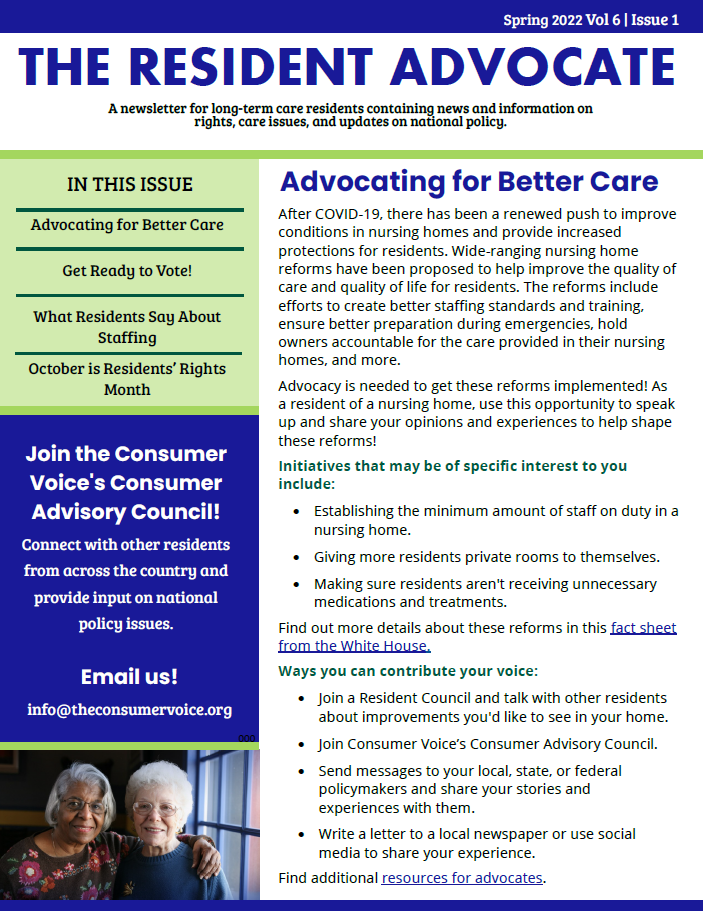 This issue includes:

An overview of recently released nursing home reforms and how to advocate for better care,

Tips for residents as they prepare to vote in elections later this year,

Voices of residents speaking about nursing home staffing, and

Information about this year's Residents' Rights Month.
The Resident Advocate is a great resource to share with long-term care residents. Nursing home staff, long-term care Ombudsman programs, family members, and other advocates are encouraged to forward this newsletter to residents or print and share copies.
Participate in the Resident's Voice Challenge



Residents' Rights Month is designated by the Consumer Voice and is celebrated in October each year to honor residents living in all long-term care facilities. The 2022 Residents' Rights Month theme is "Inspiring Unity within Our Community."

Creative writing and artistic expression are meaningful and compelling ways to highlight the importance of residents' rights and how these rights can be carried out in all long-term care settings. For the Resident's Voice Challenge, residents are encouraged to submit essays, poems, artwork, drawings, or videos related to the theme.

Community Poster Contest - This year's theme emphasizes the importance of fostering a meaningful community within the facility and encouraging residents' connection to their local community. As part of the Resident's Voice Challenge, we are inviting groups of residents to create a shared poster reflecting this year's theme.

Alternatively, individual residents or groups of residents can respond to the Resident's Voice Challenge in writing (essays, poems, word collages), audio (songs or spoken word), photos, video, or artwork. Find prompt questions on our website.

Submissions are due September 1, 2022.

Find more information and full submission criteria on our website.
Next Elder Justice Coordinating Council Meeting Will Discuss Nursing Home Reform

The Elder Justice Coordinating Council (EJCC) will hold its next meeting Tuesday, June 21st from 10:00am - 12:00pm ET. The EJCC was established by the Elder Justice Act; it coordinates activities related to elder abuse, neglect, and exploitation across the federal government. The next meeting will include a panel on nursing home reform, enforcement, and residents' rights as well as a panel on effective messaging to prevent scams and fraud targeting seniors. Consumer Voice Executive Director Lori Smetanka will participate on the panel.

RSVP for the Meeting
Webinar on How LTC Ombudsman Programs and Legal Service Providers Can Address Nursing Facility-Initiated Discharges

The National Long-Term Care Ombudsman Resource Center (NORC) and the National Center on Law & Elder Rights (NCLER) are holding a webinar Wednesday, June 22 at 3:00pm ET that will discuss the roles and responsibilities of the Long-Term Care Ombudsman program (LTCOP) and legal services and how they can work together to protect the rights of residents in nursing facilities. Specifically, presenters will discuss who can represent residents during discharge hearings and showcase examples of LTCOP and legal services collaboration in representing residents' interest during appeal hearings. NORC will share a new resource for LTCOPs and highlight other key resources for LTCOPs and legal services.
This webinar is open to all Long-Term Care Ombudsman programs and legal services providers.
Make Your Voice Heard by This Friday

On April 15, 2022, the Centers for Medicare & Medicaid Services (CMS) issued a Request for Information (RFI) regarding the implementation of a minimum staffing standard in nursing homes. CMS has promised to propose a minimum staffing standard within one year, and the RFI asks the public to respond on this issue.

Inadequate staffing is the primary driver of poor health outcomes in nursing homes. CMS needs to understand why minimum staffing standards in a nursing home are important. It's imperative that advocates, family members, and residents of long-term care facilities respond to CMS's request for information, including sharing their stories.

Responses are due this Friday, June 10th.
Make your voice heard by visiting our website to find instructions on how to respond, what to say, and information you can use to support your arguments.

World Elder Abuse Awareness Day is June 15th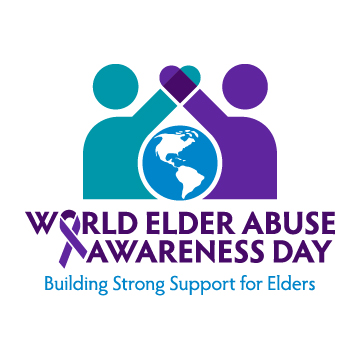 World Elder Abuse Awareness Day (WEAAD) is next week! The purpose of WEAAD is to provide an opportunity for communities around the world to promote a better understanding of abuse and neglect of older persons by raising awareness of the cultural, social, economic and demographic processes affecting elder abuse and neglect. Promote and prepare for the day by finding ideas for taking action, resources, events, and information on the Walk for WEAAD on USC Center for Elder Justice's website.
Webinar from NCAPPS on Person-Centered Decision-Making and Alternatives to Guardianship

Join the National Center on Advancing Person-Centered Practices and Systems (NCAPPS) for a webinar on Tuesday, June 21st at 3:00pm ET entitled "Pathways to Person-Centered Decision-Making and Alternatives to Guardianship." This webinar will explore how systems are expanding alternatives to guardianship, such as supported decision-making where people choose supporters to help them make important decisions in their lives. Current efforts across the country and internationally to implement supported decision-making and other alternatives provide an historic opportunity to help people take control of their lives. In this webinar, national experts, state representatives, advocates, and people with lived experience of disability from Colorado, Georgia, and Wisconsin, will outline strategies for systems and a new NCAPPS resource to expand supported decision making so that more people can benefit from these alternatives to guardianship.